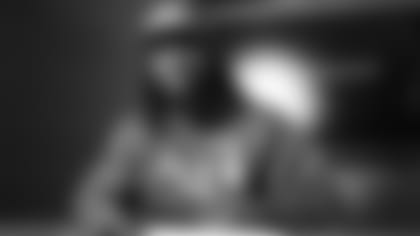 Le'Veon Bell wasn't the only highly productive AFC North standout signed by the Jets in the first days of this unrestricted free agency signing period. The Green & White also snared former five-year Baltimore Ravens monster ILB C.J. Mosley as a new piece to their defensive puzzle. Here are eight facts you may not know about Mosley:
Takeaway Talents
One reason HC Adam Gase loves adding Mosley to his defense is because of C.J.'s turnover dimension — from 2014-18, he had nine interceptions and six fumble recoveries, with the 15 individual takeaways tied for second-most by a LB in the NFL in that span. As Gase said about his 2018 Dolphins, whose 28 takeaways tied for fifth in the league: "We focused on making sure we had great ball security and that we were getting turnovers on the other end. We were able to do that, stay in games and then make plays at the end of the game that put us in position."
More Big Plays
Another measure of Mosley's impact: Since 2000, only three NFL defensive players, regardless of position, have totaled 5+ sacks, 30+ QB hits, 5+ interceptions, 30+ pass defenses, 5+ forced fumbles and 5+ opponent fumble recoveries in any five-year span. Tampa Bay LB Lavonte David did it twice, in 2012-16 and 2013-17. Ravens LB Ray Lewis did it twice (2005-09 and 2006-10). And Mosley did it twice, in 2013-17 and 2014 through last season. That's it. Perhaps not coincidentally, Lewis was one of C.J.'s favorite NFL players growing up.
Tackling Machine
Then there is the mundane football skill that Mosley has perfected to a T. He has 597 career tackles with Baltimore, which includes four 100-tackle seasons, on top of 317 tackles in four years at Alabama plus a school-record 500-plus at Theodore (AL) High School.
Madbacker Double Team
Among Mosley's many community endeavors as a Raven, he served 500 hot meals to homeless Baltimore men at former Ravens and ex-Jets LB Bart Scott's annual Helping Up Mission Thanksgiving dinner in 2017.
True to His School I
Mosley also returned to his alma mater, Theodore High, for his annual free football camp in the summer of 2018. Well, free except for Mosley, who donated $10,000 to the school and organized the two-day camp. "There's a lot of negativity in this world," he said. "To be one of the positive role models and to come back and still have that same support, I can come back here with open arms, so that's a great feeling."
True to His School II
Another part of Mosley's heart remains with the University of Alabama. At the end of his final home game for the Tide in 2013, he wanted to get in for just one more play. Coach Nick Saban said no — perfectly understandable since Alabama was leading Tennessee–Chattanooga, 49-0. And "TreyDeuce32RTR" (his current Twitter handle, reflecting his uniform number 32 at 'Bama) made a cameo appearance in a #FightSongRefresh before the Tide's December Orange Bowl win over Oklahoma.
'The Mosley Brothers'
Clint "C.J." Mosley Jr., the new Jets LB, is not related to Calvin Michael "C.J." Mosley Jr., the old Jets defensive tackle who was not quite as productive as the new C.J. but nevertheless had his moments when he played for the Green & White from 2006-08. He had three starts in those three seasons, notched five sacks and forced fumbles in back-to-back games in '07, at Dallas on Thanksgiving and at Miami. A dozen years later, the C.J. baton has been passed.
A Sense of Timing
What kind of a player are the Jets in getting in Mosley? Former Ravens teammate Matthew Judon summed that up after Mosley's fourth-down interception (of Browns rookie QB Baker Mayfield) with 1:02 left clinched the Ravens' 26-24 win and playoff berth last year. "C.J., man, you can't say enough about that guy," Judon said. "He's out there and he goes to work, week to week. He doesn't really say a lot — he doesn't say much at all — but when we need a play, we turn to him, and he came up with it."