The games are beginning again, and that means the return of 7 Points. Every week we provide you with seven points to ponder, some big, some small, some of them stats-oriented, some sound-bite-based, all of them geared toward Jets fans who are preparing for the Green & White's upcoming game. The game ahead, of course, is the preseason opener Saturday night against the Tennessee Titans at MetLife Stadium:
1. QB QuestionsReporters tried but Todd Bowles wasn't budging on his starter, the rotation or the reps at QB. What we do know from the head coach's Thursday newser: (a) Josh McCown, Christian Hackenberg and Bryce Petty will all play. (b) It's still a three-man competition. (c) as far as what his choice of starter for the Titans will mean: "You can interpret absolutely nothing." What we also know is that whoever starts may not play a lot — Ryan Fitzpatrick was in for nine plays in both the '15 and '16 summer openers. And when McCown goes in, the Jets will be the 10th different NFL team he's played for in the preseason in the last 13 years.
2. Comeback KidFor Tennessee, conversely, Marcus Mariota will get the start. He started one regular-season game against the Jets as a rookie in 2015 in which the Jets prevailed 30-8 at MetLife. Last season he matured and lifted the Titans from 3-9 in his rookie starts to 8-7 as an NFL soph. The season ended, though, with a fractured fibula in December and Saturday he'll get his first game action since that bad break. "It's feeling better with every day," Mariota says. "We haven't had a setback or anything like that."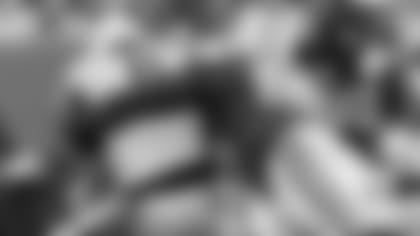 3. Hot PocketNot that the Jets defense want to inflict injury, but they will try to slow Mariota's comeback after they stalled his rookie campaign back in '15 when they sacked him five times. Muhammad Wilkerson led the way then with the only three-sack game of his career, while single sacks were rung up by Demario Davis — his last before exiting to Cleveland for a year — and then-rookie Leonard Williams. Neither Mariota nor the Jets' defensive starters will play for much more than a quarter, but it's still a big first test for a Green & White "D" that needs to lead in 2017.
4. The Safety BrothersJamal Adams and Marcus Maye are already roomies and fast friends. And with Maye coming off his strong Green & White Practice and Adams back from his ankle twist, the two young safeties are expected to start alongside each other vs. Tennessee. Since the mid-Seventies, only two rookie safeties have ever started in a Jets preseason opener — Erik Coleman in 2004 and Darrol Ray in 1980. The football gods willing, Adams and Maye will go on to start the season opener at Buffalo and we'll have more rookie safety trivia for you then.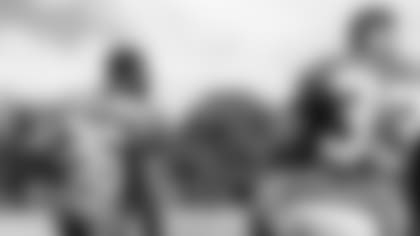 5. Separation at Wideout?Right now it's a post-Enunwa jumble for the Jets at WR. AndersonMarshallPeake played for the Green & White last year. FoxxHammondHarperWhiteWhiteheadWilson have have been on other teams' rosters. Stewart Hansen Marks are rookies. First names to come with developments Saturday. All together, these dozen receivers average one season of previous NFL experience, 13 games, three starts, 15 catches, 176 yards and one TD. Only about half of the 12 will get the chance to increase those experience numbers this RS.
6. Some ConnectionsThe Green & White's young safeties could see the Titans QBs throwing to two familiar targets — WR Eric Decker, released by the Jets in June and signed by Tennessee a week later, and TE Jace Amaro, the Jets' second-round draft choice in 2014. LB Victor Ochi, the Long Islander who played in two Jets games last year, was with the Titans until tearing his ACL last week and was waived/injured. Jets C Wes Johnson has just a small hometown interest in this opponent, since he was born and raised in Nashville and played collegiately at Vanderbilt.
7. Rivalry "Homecoming"This is the 15th preseason meeting between the Jets/Titans and Titans/Oilers franchises — and it's the first time the Jets will be playing a true home game in this summer series. Seven of the previous games were at neutral sites, while the other seven were on the road at the Houston Oilers, at either the Astrodome or Jeppesen Stadium. The last time they met in the preseason was in the 1996 opener, when the Jets were the host team to the Oilers in Jackson, MS. The Oilers won that one, 31-13. The Jets are 6-8 in the preseason vs. the Titans.
Top Historical Photos Between Matchups Between the Two Franchises