The second preseason opener of the Todd Bowles era is upon us, with the Jets hosting Jacksonville at MetLife Stadium on Thursday evening. And the head coach says the game plan is simple: "We just want to see guys go out and play fast and play hard and know their assignments and see who can play and who can't."
We know our assignment, which is that when the games begin, it's time to kick off another season of "7 Points":
The Jets are 7-6 all-time vs. JAX, including preseason, but they hold the recent upper hand with four straight wins. That includes the teams' only preseason meeting in 2013, a 37-13 victory at MetLife in which Bilal Powell motored for a game-high 73 yards of offense. (It was also the last game Mark Sanchez started as a Jet) and also last regular season's 28-23 home verdict featuring Ryan Fitzpatrick throwing TDs to — who else? — Brandon Marshall and Eric Decker while then-rookie Lorenzo Mauldin posted the first 2.0 sacks of his pro career against Blake Bortles, whom he'd like to run into again early Thursday evening.
We all know about Chris Ivory, the big bopper who had the best rush (1,070 yards) and scrimmage (1,287 yards) seasons of his career as a Jet last year. He left as an unrestricted free agent and is now listed as a "co-starter" with T.J. Yeldon on the Jaguars' depth chart. If the Jets' run defense needs any added incentive, it's this: The backs who executed all three 40-yards-plus runs in Jets games last year will be in black and teal Thursday: Ivory (50-yarders vs. Washington and at Buffalo) and Yeldon (45-yard run late in Game 8).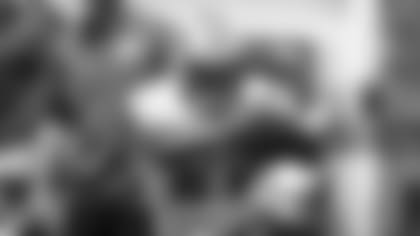 Too bad Matt Forte, the good-hands RB who's replacing Ivory on the Jets, will sit out this opener with his achy hamstring. He scored four TDs and averaged 130 yards from scrimmage in four regular-season games vs. the Jaguars when he was a Bear. But Powell, who artfully averaged 80.5 yards of offense in Games 10-15 last year, has carried the load this summer for the first offense, and OC Chan Gailey is a happy camper: "Bilal's done very well. ... He's picked up right where he left off."
The Jets have an ex-Jaguar on staff in Brant Boyer, the first-year special teams coordinator who had 10 sacks and two interceptions in six seasons as a Jacksonville LB. It's a big debut for Boyer's specialists as we see rookie Lachlan Edwards' first game-action pro punts, and also how the Jets' returners perform — Jeremy Ross, Kyle Williams, Romar Morris and rookie Jalin Marshall are listed 1-2-3-4 on both the kick-return and punt-return depth charts.
Ryan Quigley, the Jets punter for the past three seasons, wasn't re-signed and wound up in North Florida, where he's competing with Brad Nortman, Carolina's punter the past four years. And Shaq Evans, the Green & White's fourth-round pick in 2014, is trying to find a spot among the Jaguars' young, talented WR group that includes 1,000-yard receivers Allen Robinson and Allen Hurns.
You may have heard Jacksonville has had a good offseason and a few good drafts. So has ESPN, which ranked the Jaguars as the NFL's No. 1 "U25" or under-25 team. The Jags defense features the top two picks from this year's draft, CB Jalen Ramsey and LB Myles Jack, and feisty DE Dante Fowler, last year's No. 1 who was in the middle of a practice brawl Tuesday. But the Jets, not ranked as high, also have some young defenders of note such as second-year man Leonard Williams and rookie LBs Darron Lee and Jordan Jenkins.
It would be great to get off on the right foot with a win in the preseason opener, but the outcome in this game isn't indicative of much. The Jets' last two playoff teams in '09 and '10 lost their preseason openers, as did Bowles' 10-6 team last year. And the 2014 Jets won their opener before going 4-12. As Fitzpatrick said about goals for this summer lidlifter: "No presnap penalties, get out of the game clean with no turnovers ... and you hope on both sides that nobody gets injured."