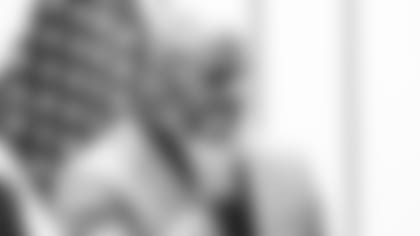 The Jets started the 2022 NFL Draft with picks No. 4 and No. 10, taking Cincinnati CB Ahmad "Sauce" Gardner and Ohio State WR Garrett Wilson. General manager Joe Douglas proceeded to vigorously work the phones, calling each team from No. 15 on, trying to move up to nab Florida State pass rusher Jermaine Johnson, a top-eight player on their board. Douglas finally landed a trade with the Tennessee Titans and made Johnson the team's third first-round pick. It's the first time since 2000, the "Four Aces" draft that the Green & White have had at least three first-round selections.
After the trade for Johnson, the team no longer has either of their original picks (No. 35 and No. 69), but it still has Carolina's second-rounder (No. 38) and Tennessee's third-rounder (No. 101). Last year Douglas selected WR Elijah Moore No. 34 overall and when asked if there are players he'd be excited about adding, similar to Moore, Douglas responded, "absolutely."
Below are six capsules about players who could make sense for the Jets on Day 2.
LB Nakobe Dean (5-11, 229), Georgia
Dean was a unanimous All-American in 2021, winning the Butkus Award for the second time in his football career. He won it as a senior in high school, too when he was the No. 1 recruit in Mississippi. In three years with the Bulldogs, he totaled 168 tackles, 10.5 ,TFLs, 6 sacks, 2 FF, 8 PDs and 2 INT. He was a team captain on the national champions, a team that had the names of five of his teammates called in the first round on Thursday night.
RB Breece Hall (5-11, 217), Iowa State
Hall has been one of the most consistent, productive backs in college football the last two seasons. He was a consensus first-team All-American and Big 12 Offensive Player of the Year in 2020 and 2021, rushing for 3,044 yards and 41 touchdowns. He also had 59 receptions, 482 yards and 5 TDs. Hall left the Cyclones owning 11 school records ,and set an FBS record with a rushing touchdown in 24 consecutive games. He and Michigan State's Kenneth Walker could be in play if Douglas wants to go in that direction. Walker (5-9, 212), the Doak Walker Award winner in 2021 given to the nation's top back, ran for 1,636 yards and 18 TDs in 2021.
DEs Arnold Ebiketie (6-2, 250), Penn State and Boye Mafe (6-3, 261), Minnesota
If the Jets want to double down at pass rusher, Ebiketie and Mafe could fit the bill. The Green & White coached both players at the Senior Bowl. Ebiketie plays with a little more power compared to Mafe's speed and had 9.5 sacks and 17 TFLs for the Nittany Lions in 2021. Mafe led the Gophers in sacks and tackles for loss as a junior and senior (11.5 sacks, 15.5 TFLs).
DL Travis Jones (6-4, 325), Connecticut
Jones, another player the Jets coached at the Senior Bowl, was one of the prospects in Mobile considered a winner of the week. A team captain in 2021, he totaled 4.5 sacks and 7.5 TFLs as a senior. The Green & White lost a big body in the heart of the defense to free agency in Folorunso Fatukasi. They could replace a former UConn player with another Huskies prospect. Another name to watch at DT is Oklahoma's Perrion Winfey, the Senior Bowl MVP.
S Jaquan Brisker (6-1, 206), Penn State
Brisker began his career at Lackawanna Community College before spending the last three seasons in Happy Valley with the Nittany Lions. He earned second-team All-American and first-team All-Big Ten honors in 2021 with 64 tackles, 6 TFL, 7 PDs and 2 INT. Brisker, a team captain in '21, is considered the "unquestioned" leader of the team and his former defensive coordinator, Brent Pry, called him one of the best workers on the team. Brisker committed zero penalties over the last two seasons. Another name to watch at safety is Baylor's Jalen Pitre, who was the only FBS player with at least three fumble recoveries, three forced fumbles and two interceptions in 2021. He was also a consensus first-team All-American and the Big 12 Defensive Player of the Year.
OL Bernhard Raimann (6-6, 303), Central Michigan
Raimann has a unique story. He was born in Vienna and started playing football at 14 as a wide receiver. He moved to the United States at 17 and committed to CMU as a tight end before adding 60 pounds since March 2020. Raimann has only started 18 games on the offensive line, all at left tackle, allowing one sack and averaged 74.6 snaps per game. He was coached by the Jets at the Senior Bowl and lined up at both guard spots throughout the week.