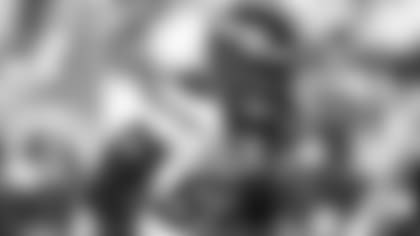 What to make of the lopsided Jets-Eagles rivalry that will be renewed for the 13th time at MetLife Stadium on Sunday? The Green & White have suffered six one-score losses, two one-point defeats, four fourth-quarter blown leads. Six L's on the road, six at home.
It all adds up to an 0-12 record by the Green & White against the Birds that sport a different shade of green. The Jets would like nothing more than to end this skid with a win that would get them to .500 through six games and really put them in a winning frame of mind heading into their bye week and then a long road trip to play the Giants.
Except that the Eagles are 5-0 this season. The Jets, although they posted victories over the 6-0 Broncos in 1986, the 10-0 Titans in 2008 and the 14-0 Colts in '09 — are 3-12 against undefeated opponents with at least five wins.
HC Robert Saleh acknowledges the Philadelphia threat — "they're a challenge" — but downplays the 0-for-a-dozen aspect of the afternoon ahead.
"What's cool is the NFC champs are walking into our building, and it's an opportunity for us to get after it," Saleh said. "We've played some good teams. We took Buffalo and Kansas City down to the wire. We've got another great one coming in. So hopefully it's a fun game for everybody, and hopefully we're on the right side of it."
Here are six players to watch as the Jets get after it against their friendly, infrequent foes from down I-95:
QB Zach Wilson — The spotlight swings back on Zach. Wilson received major plaudits for his performance in the loss to the Chiefs, and although not as dynamic at the Broncos, the Zach buzz continued with the comeback win in Denver. At a 72.3% completion percentage those 2 games combined, Wilson joins Mike White as the only Jets QBs with 70% accuracy in back-to-back starts since 2018. But what got Wilson through Denver, managing the Breece Hall-led 234-yard running game, may not work as well this week since the rush defense is no longer the 32nd-ranked Broncos but the first-ranked Eagles, allowing 61 yards/game. Things may well come to pass in this one.
WRs Garrett Wilson and Allen Lazard — It's been easier for opponents to move the ball through the air than overland vs. the Philly D. The Eagles have given up some big receiving games, to the Vikings' Justin Jefferson (11-159), the Commanders' Terry McLaurin (8-86) and the Rams' Cooper Kupp (8-118). G.Wilson hasn't been grabbing downfield receptions for as many yards as he did in his superb rookie season, while Lazard has a career-high 15.5 yards/catch average in the making but isn't getting as many targets as usual. With protection, this would be an excellent game for Z.Wilson, G.Wilson and Lazard to get synced up for some aerial artistry.
LBs C.J. Mosley and Quincy Williams — The Jets run defense is in for a challenge. Top tacklers Mosley and Williams need to lead 11 hats to the ball to stop the Eagles' 2nd-ranked rushing attack led by D'Andre Swift, whose 5.7 yards/carry is 4th-best among backs. (Breece's 7.2 is second.) Then it'll be all bods on deck, including Quinnen Williams (303 pounds), Quinton Jefferson (291) and Al Woods (330), to plug up the small holes through which QB Jalen Hurts & Co. run the "Brotherly Shove," a.k.a. the "Tush Push," to convert short-yardage third downs and score one-foot touchdowns. One remedy, said Jefferson: "Don't put them in situations where they're able to do it."
S Tony Adams — The young, athletic, gung-ho safety won't be on accomplished WR A.J. Brown, except maybe in deep-help situations, but Adams will see double duty, no doubt. He showed up on some second-half shadowing of Russell Wilson at Denver and could be called to monitor Hurts, who runs the ball on average 11 times a game, most among NFL quarterbacks. Then Adams and Jordan Whitehead will be part of the coverage team on TE Dallas Goedert. Jets pass defense has yielded 5 TD catches by TEs the past 4 games, and Goedert had 6 catches for 105 yards and 2 TDs at MetLife the last time he played the Jets in '21.