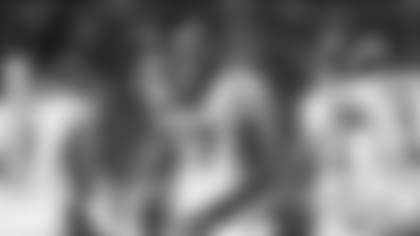 It doesn't get any easier for the Jets, who this week, under the weight of a two-game losing streak and critiques from all corners, will take on the Kansas City Chiefs, the defending Super Bowl champions led by All-Pro QB Patrick Mahomes, in front of a Sunday night MetLife Stadium and national-TV audience — their first SNF appearance since 2011..
But Jets head coach Robert Saleh wouldn't have it any other way. Except for wins instead of losses, of course.
"It's the NFL. When you lose, it feels like the world is caving in. When you win, everyone puts you on a pedestal," Saleh said. "But there's still a lot of confidence in the locker room. Defense, knock on wood, obviously playing at a high level, special teams playing at a high level, and offense has got to find a way to pick it up. And that always starts at the coaching level and then it goes all the way down, just trying to find ways to move the ball and score points."
Here are six players to watch as the 1-2 Jets try to work the primetime magic they displayed in the opening-night win at home over the Bills against the 2-1 Chiefs, who with Mahomes at the controls since 2019 are 7-2 on Sunday nights.
QB Zach Wilson — It was an efficient winning opener in long relief of the injured Aaron Rodgers vs. Buffalo, followed by two rough losses and a lot of outside noise after the showings at Dallas and vs. New England. Wilson, after missing the opportunity to lift him and Garrett Wilson into a line in the Jets' record book with their third straight game with a TD connection from the start of a season, need to reconnect for more than G.Wilson's five catches and 48 yards And might this be the game to find Mecole Hardman Jr. running free after the catch? Hardman, seeking his niche as a Jet, had 174 catches and 22 total TDs in his four seasons working with Mahomes and the Chiefs.
RT Alijah Vera-Tucker and RG Joe Tippmann — Vera-Tucker is the young, versatile veteran who's already started at four different OL positions in his career and is set to man right tackle for at least the next three games until LT Duane Brown is eligible to come off IR. Tippmann is the second-round rookie who moved in at RG vs. the Patriots. How they play off each other could be pivotal to the Jets, not only in protecting Zach Wilson's open side but in springing Breece Hall and Dalvin Cook in the run game. The Chiefs have been vulnerable to some long runs to their left side in the first three weeks of the season.
LB C.J. Mosley — Mahomes and the Chiefs have been very efficient in distributing the ball and moving the chains. Despite not having a receiver in the NFL's top 50 in catches, KC is 5th in passing yards/game and 8th in yards/pass play. Mahomes remains a triple threat, checking in at No. 3 among QBs in yards/rush (6.4). ranking first in the league in being the least sacked (1 sack in 114 dropbacks), and placing 6th in passer rating (99.5). Much will fall on Mosley not only to lead the defense as usual but to keep track of Mahomes when he takes off and when he tries to find his and Taylor Swift's favorite tight end, Travis Kelce, who has 11 receptions and 2 touchdowns.
CBs Sauce Gardner and D.J. Reed — The Jets' starting corners, plus nickel Michael Carter II, were celebrated last season and rightly so. This year, it's been tough sledding early as the three have combined for no interceptions and 2 pass defenses in 3 games. Any or all of the trio will be tested by Mahomes throwing to speedy WRs Marquez Valdes-Scantling and WR Justin Watson, the latter lining up all over the formation and with just 7 receptions but for 158 yards (22.6 yards/catch). If Mahomes gets time as he has in Games 1-3, the uber-QB will certainly try to find his dangerous receivers for some explosive plays, and the Jets CBs will be seeking to prevent Watson and MVS from going off.