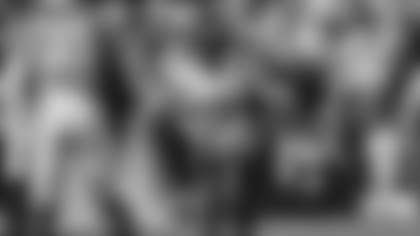 Aaron Rodgers' visit to the Jets this past weekend from his West Coast Achilles rehab was welcome on many fronts, especially in maintaining and even elevating the mood in the locker room. "I like our frame of mind right now," the QB said.
Nothing would help that frame more than a pretty picture of a win a mile high in Denver on Sunday. Both teams are 1-3 but both are coming off promising games. The Jets were a field goal shy of an upset of the defending Super Bowl champion Chiefs, while the Broncos came back from a 28-7 deficit with 24 unanswered second-half points for their 31-28 W at Chicago.
Jets HC Robert Saleh dismissed any added urgency just because the Jets want to snap their three-game losing streak.
"I feel like every week's a big week. The sense of urgency to win in this league and do your best is always at peak levels every week," Saleh said. "We're going to a Denver team that just came off a big win. They're feeling really good about themselves, and they're probably looking at their schedule and thinking, hey, we've got a chance to get right. So we've got to put our best foot forward and get ready to try to win a football game."
Here are six players to watch as the Jets attempt to breathe the rarefied air of a one-game win streak against the 1-3 Broncos:
RBs Breece Hall and Dalvin Cook — Hall has shown bursts, on his 83-yard scamper in the opener and his 43-yarder vs. the Chiefs. And Hall had the second-longest run by a Jets rookie last year before his injury with a 62-yard touchdown dash. Cook hasn't yet started cooking but would love to turn up the heat with a blast from his past superb seasons with the Vikings. The Broncos, on the other hand, are yielding 176 rushing yards/game, last in the NFL, and 5.6 yards/carry, 31st in the league. The Jets are averaging 4.7 yards/carry, 6th in the league. The Jets surely will try to ride their running game plus efficient Zach Wilson passing, to secure their first two-game road win streak at Denver since 1966-67.
WR Garrett Wilson — G. Wilson now gets to work on his second 100 receptions, after surpassing his first 100 with 9 catches from Z. Wilson vs. KC. G. Wilson's receiving line may seem modest to some — 21 catches, 225 yards, 2 TDs — but even at 10.7 yards/catch, he and Z. Wilson are on target for 89 connections for 956 yards and 8-9 TDs. And if G. Wilson breaks loose downfield as we've seen in his first 21 games as a pro, he'll clear 1,000 yards again. But first things first: This could be a game for him, Allen Lazard, Tyler Conklin, even rookie Xavier Gipson to get open, going against a Broncos pass defense that ranks 31st in pass yards allowed/game (285.5) and last in yards allowed/pass play (8.9).
DL Quinnen Williams — The Jets sacked KC's Patrick Mahomes just once but applied 9 QB hits. Bryce Huff had 2 of the hits and forced the safety that jumpstarted the Jets' comeback, and John Franklin-Myers had 3 hits. But the pass rush goes as "Q" goes, and Williams is coming on with 5 QB hits the past 2 games and the split sack of Mahomes. Up next is Russell Wilson, who didn't play in last year's Jets-Broncos game but is 3-0 with a 132.6 passer rating for his Seattle career vs. the Jets. Yet Wilson is easily the NFL's most sacked and most hit QB since his rookie season of 2012 and this year has been sacked 11 times and hit 33 times, 4th-most in the NFL. For Williams and the Jets, opportunity is knocking.
CB Sauce Gardner — They're not throwing at Gardner as much as an NFL super-soph, since he has just 1 pass defense this year compared to 5 through the first 4 games of his rookie season. Then in his fifth game vs. Miami, he got really hot with his safety-causing opening defensive play and his first pro pick. Could this year's Game 5 be as Saucy? It would help, if Wilson gets time to go downfield, for Gardner to sit on Courtland Sutton as he did last year (3 PDs for Gardner, 3 catches for 23 yards for Sutton) or on explosive rookie Marvin Mims, and for D.J. Reed (who started the week in the NFL's concussion protocol) to keep tabs on Jerry Jeudy to prevent an outcome like the Broncos' Chicago comeback.
K Greg Zuerlein — Rocky Mountain High is where kicking records go to die. For the Green & White alone, Denver has been very good to them. The longest punt in NFL history, Steve O'Neal's 98-yarder, was launched in the thin air of Mile High Stadium in 1969, and Nick Folk drilled a 56-yard field goal in the Broncos' current stadium in 2010, at the time the longest in Jets history. Zuerlein eclipsed Folk's mark with his 60-yarder at Minnesota last year and could match or surpass that at Empower Field on Sunday. But the Jets would be perfectly fine if Legatron gives them touchbacks on all kickoffs and perfect FG accuracy from 19 to 59 yards.