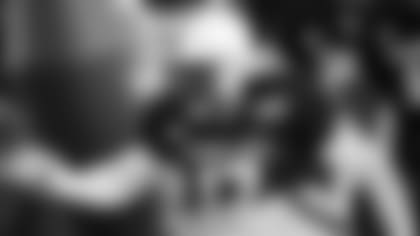 Wyoming LB Chad Muma
Muma, who was on the National team coached by the Jets, was a tackling machine for Wyoming. He averaged 11.3 tackles per game over the last two seasons and had 142 tackles in 2021 as well as 8 tackles for loss, 1.5 sacks, 3 interceptions and 2 touchdowns. He played defensive back until his senior year in high school when he moved to linebacker. Muma played behind Bengals LB -- and leading tackler -- Logan Wilson for two years.
NFL Network's Daniel Jeremiah was impressed by Muma at the Senior Bowl and said, "A lot of teams have a philosophy not to take an off-ball linebacker early in Round 1, but if you're looking outside of Round 1, Chad Muma from Wyoming is a great player."
Penn State DE Arnold Ebiketie
Florida State's Jermaine Johnson had an outstanding week as we've noted, but the defensive line prospects as a group made money in Mobile, AL, by improving their draft stock. ESPN draft analyst Todd McShay pointed out a number of players including South Carolina's Kingsley Enagbare, Western Kentucky's DeAngelo Malone, Virginia Tech's Amaré Barno and Cincinnati's Myjai Sanders.
Another player who took advantage of the stage was Penn State's Arnold Ebiketie. After transferring from Temple following the 2020 season, he had a tackle for loss in all but one game in 2021. He finished with 18 tackles for loss along with 9.5 sacks and 2 forced fumbles.
"Not the biggest guy but he has long arms and just so efficient with his pass-rush moves," McShay said.
Ohio State TE Jeremy Ruckert
The tight ends crop at the Senior Bowl was impressive with guys like Colorado State's Trey McBride, Wisconsin's Jake Ferguson and Coastal Carolina's Isaiah Likely, but Dane Brugler of The Athletic was most impressed by Ohio State's Jeremy Ruckert.
"Jeremy Ruckert was outstanding," Brugler said. "He's a really smooth pass catcher, the ball skills have been fantastic. I think he's helped himself. Trey McBride has caught everything that's gone his way and Isaiah Likely is more of that rocked up wide receiver. He's not your traditional tight end, but he also has the speed and he's blowing by guys. I think if the Jets want to upgrade the tight end position, they have some pretty intriguing options down here in Mobile."
Jim Miller of Sirius XM also pointed out Greg Dulcich as a tight end who improved his draft stock.
Central Michigan OL Bernhard Raimann
A lot of talk about the offensive line from Mobile was centered around Northern Iowa OL Trevor Penning and for good reason. But Central Michigan OL Bernhard Raimann also had a good week. He proved that he belonged after playing just 18 games at offensive line after moving from tight end to left tackle during the coronavirus pandemic. He may be new to the position and comparatively new to the game, but evaluators like his traits.
"He didn't start playing football until he was 14 years old," Austin Gayle of Pro Football Focus said. "He found an egg-shaped ball in Austria and says you know what? I think I'm going to play this in the States. He goes and plays high school football and now has risen up. I was talking to Paul Alexander, the former offensive line coach in the NFL, who's working with Bernhard Raimann. He said this kid picks up everything you put in front of him. You tell him you need to know X, Y and Z and tomorrow he has it nailed. One of the smarter offensive tackles in attendance [at the Senior Bowl] and has the athleticism and power to hold his own."
Auburn CB Roger McCreary
McCreary is a fiery competitor, but a lot of evaluators will knock him for his arm length at 29 1/4 inches. He climbed his way up the depth chart for the Tigers over his four years there and finished his career with 135 tackles, 6 interceptions and 30 pass defenses. He has NFL bloodlines as his uncle, Angelo James, played for the Philadelphia Eagles in 1987. McCreary's week in Mobile caught the eye of executive director Jim Nagy.
"On the American side, Roger McCreary, a corner from Auburn, had a really nice week," Nagy said. "He got voted Player of the Week at corner for their team."
ESPN draft analyst Jordan Reid also pointed out Clemson CB Mario Goodrich, who was first-team All ACC in 2021 and the MVP of the Cheez-It Bowl.
Boise State WR Khalil Shakir
It feels like every year midround receivers who perform well as rookies have been Senior Bowl products, for example Ravens' Devin Duvernay, Rams' and Super Bowl MVP Cooper Kupp, Commanders' Terry McLaurin, and Raiders' Hunter Renfrow. North Dakota State's Christian Watson had an impressive week and came in at No. 97 on Brugler's updated top 100. South Alabama's Jalen Tolbert was another winner in Mobile, but Jeremiah likes the fit of Shakir with the Green & White. He had 77 catches, 1,117 yards and 7 TDs in 2021.
"Not the biggest guy, but he caught everything out here," Jeremiah said. "I think with what the Jets like to do with those guys to play all of the spots, learn all those spots and move around, I think he fits quite well there as well."