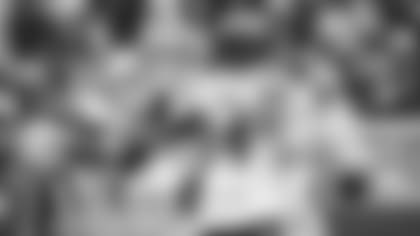 In perhaps their most complete victory of the season, the Jets used the storied stage of Lambeau Field and a large TV audience across Fox Network in a stunning 27-10 win over the Green Bay Packers. Fulfilling the objective of playing complementary football in three phases of the game -- the Jets rushed for a season-high 179 yards, employed a tenacious defense that hounded QB Aaron Rodgers (4 sacks, 2 by Quinnen Williams) all game and excelled on special teams by blocking a field-goal and a punt (returned for a TD). Ahead of Sunday's game at Denver, according to NFL stats, teams that start a season with a 4-2 record make the playoffs 63.6% of the time.
Against the Pack, a handful of individual plays proved to be pivotal as the Jets matched their win total from last season in Week 6 this season.
No. 1: Q Tips ... Quinnen Williams Blocks FG
The game was scoreless when the Packers embarked on a 7-play drive that began on their own 27-yard line and moved to the Jets' 29. With the drive stalled, on the first play of the second quarter Green Bay set up for a field-goal attempt by Mason Crosby, who had hit on 6 of 6 attempts this season.
But Micheal Clemons (more on him later) and Quinnen Williams burst through the middle of the Green Bay offensive line, with Williams getting a few fingers on the ball, blocking the 47-yard try.
"I don't think this was a statement game," Williams said. "It was coming in and doing our job, playing football on Sunday as a unit. As a team, the biggest thing for us is execution and communication week in and week out. We know our downfall is when we don't communicate. But when we do 100 percent, all 11 on the field we're a great defense."
No. 2: Slippery When Wet
It was early in the second quarter when the Jets went three-and-out. Green Bay QB Aaron Rodgers handed off twice to RB A.J. Dillon for 9 yards. On third-and-1 at the Packers' 33, his next handoff to Dillon never made it as Dillon couldn't get a handle on the wet pigskin. Jets S Lamarcus Joyner pounced on the loose ball at the 34. The fumble recovery led to Greg Zuerlein's 32-yard field goal to open the scoring.
No. 3: Shot to Davis
Zach Wilson was controlled in completing 10-of-18 passes for 110 yards, spreading the ball around to 7 receivers with none catching more than 2 passes. Perhaps the biggest of those 10 completions came at the 9:02 mark of the third quarter tied, 3-3, when Wilson found Corey Davis for 41 yards (the longest play of the game) to Green Bay's 20-yard line.
On the next play, Braxton Berrios took a pitch from Wilson, set up a block by TE C.J. Uzomah and motored into the end zone from the 20, giving the Jets a 10-3 lead, which they never relinquished.
"It was huge," Wilson said. "The shot we had talked about going to getting out on the edge. I wish I still gave him a little bit of a better ball, but I wanted to give him a chance. I didn't want to overthrow it. So, he did a great job going up and getting it and we were able to score the next play. So, I thought a great sequence of putting us in a good position to get a one-on-one, and a good guy going down the sideline for us. It was a good play."
No. 4: Block, Scoop, Score
Then six plays after the Berrios TD. ...
DE Micheal Clemons, the last of the Jets' six selections in the 2022 NFL Draft, keeps popping up and making plays, using his size (6-5, 270) to impose his will. On Sunday, he saw 9 snaps (12%) on defense, but made a huge impact as part of his 15 snaps (52%) on special teams.
With the Jets holding a 10-3 lead with about six minutes left in the third quarter, Clemons powered through the middle of the Green Bay line and blocked Pat O'Donnell's punt. S Will Parks scooped up the loose ball and sprinted 20 yards for the TD and a 17-3 lead. The Jets last scored a TD from a blocked punt in 2019.
"He's been under the radar," Saleh said of Clemons. "He's been playing really well this whole season. He's being asked to do all the grunt work. He played well on defense, he's playing well on special teams. He's doing anything and everything that is asked of him. Just love his mindset and what he brings day in and day out."
No. 5: 'Home-Run Hitter' Breece Hall Touches Them All
HC Robert Saleh called rookie running back Breece Hall a "home-run hitter." Hall again hit it out of the park, notching his first 100-yard rushing game of his NFL career (116 yards on 20 carries) and salting the game away with a powerful, swerving 34-yard jaunt for a TD for a 24-10 lead.
Hall later revealed that on the play he was supposed to pass to rookie WR Garrett Wilson, but after taking the handoff saw there was no window to get the ball to Wilson. 
"He's a home-run hitter," Saleh said Sunday. "There's no price for a home-run hitter."
Hall put an exclamation mark on his ramble to the end zone by executing a Jersey Jump in the land of the Lambeau Leap.
"We actually talked about it before the game," Hall said about the leap. "We were like, whichever one scored, we have to do the Lambeau Leap. Brax [Braxton Berrios] got the first one, but I don't think there were any Jets fans on the side he scored on. So when I scored, I had to do it."