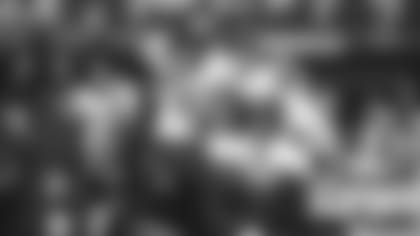 There were no rally hats in view at MetLife Stadium on Sunday afternoon because, unlike their previous two victories, the Jets didn't need a heart-stopping comeback to improve their record to 3-2.
This time, a 21-point fourth quarter was enough, more than enough to subdue the visiting Miami Dolphins, 40-17.
In the process, the Jets exorcized a series of nagging demons:
■ The Jets won their first home game of the season after opening with two losses at MetLife Stadium (Baltimore and Cincinnati).
■ The Green & White ended Miami's recent domination of the rivalry that dates to 1966. The Fins had won 8 of 9 dating to 2017.
■ In their first AFC East game of the season, the Jets defeated a division opponent for the first time in 13 games, dating to 2019.
■ The 3-2 record is the first time since 2017 the Jets are over .500 this late in a season.
■ It is also the first time the Jets have won two straight games since late in the 2020 season; and the first time they scored 40 points or more since 2018.
Against the Fins, a handful of individual plays proved to be pivotal.
No. 1: Is It Sauce Yet?
The Jets' top draft pick, CB Ahmad "Sauce" Gardner, taken No. 4 overall likes to go by his nickname. Before the start of the season, however, defensive captain C.J. Mosley said he would continue to call Gardner by his given name until he earned the moniker of Sauce by making some plays.
Now, after five games Ahmad is officially Sauce.
On Miami's first play from scrimmage, at its own 8-yard line following a Braden Mann 48-yard punt, DC Jeff Ulbrich surprised the Dolphins and nearly everyone else when he dialed up a cornerback blitz. Gardner broke across the line unblocked and got into the grill of backup quarterback Teddy Bridgewater (playing for the injured Tua Tagovailoa). Bridgewater from the end zone dumped the ball and hit the turf hard. Officials ruled intentional grounding against Miami, Sauce notched a 2-point safety and Bridgewater left the game with an elbow injury and potential concussion. He did not return and was replaced by rookie Skylar Thompson.
"We got an explosive play out of it," HC Robert Saleh said after the game. "You don't want to live that dangerously all the time, but we felt we could get an explosive play and it worked out."
No. 2: Zach Wilson to Breece Hall for 79 Yards
Against Cincinnati a few weeks ago, rookie running back Breece Hall was unable to hold onto a Joe Flacco pass in the flat at the end of a wheel route. But what goes around comes around.
With time running out in the first quarter, Zach Wilson (who completed a modest 14-of-21 passes in the game and deftly managed the game) found a wide-open Hall (2 receptions, 100 yards) along the visiting sideline on that wheel route. Hall caught the ball and rambled 79 yards to the Miami 1-yard line. Michael Carter scored on the next play for a 12-0 lead.
"We were kind of expecting it to be open, it was kind of a schemed-up play, so I wasn't really surprised but for a second I thought Zach wasn't going throw it because he was going through his progressions while I was like, 'Alright Zach, come on, come on before they catch up,' " Hall said.
He added: "I just ran the right route, sold it to the linebacker, got behind him, and caught the ball and just let my natural ability take over."
No. 3: JFM Deflects a Pass; Sauce Grabs His First NFL INTAfter Miami got back into the game, 12-7, early in the second quarter, DL John Franklin-Myers got his hands into the face of Thompson and his fingertips on the ball. JFM's play enabled Gardner to step in front of River Cracraft for the first interception of his NFL career.
The INT started the Jets on a 9-play, 53-yard drive that took 5:22 off the clock and ended with Zach Wilson scoring a rushing TD from 5 yards out, his second TD with his legs in as many weeks.
"It was a blessing," Gardner said of the interception. "I think you all were in the locker room earlier this week and I was like, 'I'm the only one who doesn't have one.' I think God heard me. I know he heard me, for sure. He answered my prayers."
No. 4: Missed Field Goal, Missed Opportunity
The outcome was still in doubt, with the Jets hanging on to a 19-17 lead early in the fourth quarter. The Dolphins took a Braden Mann punt and moved from their own 21-yard line to the Jets' 41. Facing a third-and-10, Thompson connected with Jaylen Waddle, who hauled in a 5-yard pass and was immediately tackled by S Jordan Whitehead. A 54-yard field-goal attempt by Jason Sanders floated wide right.
The miss launched the Jets on a 7-play, 56-yard scoring drive capped by Michael Carter's second 1-yard TD dive of the game and a 26-17 lead with 9:26 to play. The Jets never looked back en route to scoring 21 fourth-quarter points.
No. 5: Quinnen Williams' Rumble With a Fumble
After taking a 26-17 lead about five minutes into the fourth quarter, Miami had a first down at its own 20-yard line. DE Carl Lawson, who is more active and comfortable with each game after missing last season with an Achilles tendon injury, broke around right end and zeroed in on Thompson. DL Quinnen Williams scooped up the loose pigskin, sent Miami WR Tyreek Hill to the turf with a monumental straight arm and rambled 12 yards to the 5-yard line. Hall scored on the next play.
"​​Obviously, you want to see a big man get into the end zone, see a big dance or something," DL Sheldon Rankins said about the play. "But a close second is launching another human being into the ground and that's a very close second. I had the pleasure of, you know, when things like that happen, they kind of happen in slow motion.
"I just see him pick it up and I'm like, 'Oh, there's grass, he's going to score,' and then I see Tyreek. In my head, I'm like, 'Tyreek's probably going to try and chomp him low or something,' but no, he just ran right into Quinnen's arm. He extended his arm and when he did, Tyreek was gone. So, that was slow motion for me. It was one of those, 'I'm running to the ball, I got to get a block, alright, come on.' As I said, if you can't get into the end zone, close second is launching another human being into the turf."