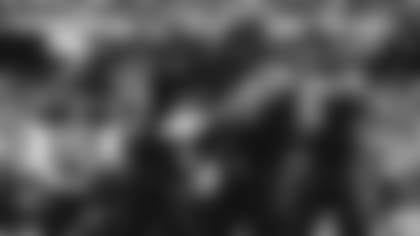 The Jets had several strong performances in the Jets' emphatic 31-10 victory over the Chicago Bears at MetLife Stadium on Sunday.
QB Mike White played a flawless game in the fourth start of his NFL career; rookie WR Garrett Wilson had the second two-TD game of his young career; rookie RB Zonovan "Bam" Knight ran hard and led the Green & White's rushing attack and MLB C.J. Mosley made his first interception since his first game in Green & White, back in 2019.
The Jets are 7-4 and next head to Minneapolis to face another NFC North squad, the 9-2 Vikings in Week 13.
No. 1 -- White to Wilson for TDThe Jets took the opening kickoff 75 yards in 9 plays to their first touchdown on their first possession of a game this season. QB Mike White hit on 5 passes during the drive before finding rookie WR Garrett Wilson on a short corner route for an 8-yard TD pass on a third-and-goal play. White was 6 of 7 for 69 yards on the opening possession.
"You always want to start fast, finish faster – all of the coaching cliché stuff," head coach Robert Saleh said. "It was good to see the offense have that good, methodical drive to open the game. They really kept their foot on the pedal the entire game. I think we punted twice and had two mishaps on field goals, so a lot of scoring opportunities, things that we can all coach off of. That's always important."
No. 2 -- White to Wilson, Part Deux
White and the Green & White flashed some big-play potential with about 5 minutes left in the first half. Chicago had cobbled together a 10-7 lead, but the Jets needed only 4 plays to cover 78 yards to grab the lead for good. On first-and-10 from near midfield, White feathered a pass over a Bears linebacker and connected again with Wilson, who eluded a would-be tackler on a 54-yard catch-and-run. Wilson, the Jets' leading receiver so far this season, led the team with 5 catches for 95 yards.
Speaking about White, Wilson said: "He comes in and prepares, goes about his business the right way and goes about his preparation the right way and you do things like that consistently, you're going to get it back on the back end. I think we saw that today. That's a really good talent, really good mindset and when you have things like that, that's what comes up."
White finished the game 22 of 28 for 315 yards and 3 TD passes for a 149.3 QB rating.
No. 3 -- A Sack to Open Second HalfThe Jets entered the game with 32 sacks, tied for third-most by a Jets defense through 10 games in franchise history. The most are the 38 by the New York Sack Exchange in 1981. The defense added 2 sacks against the Bears, and the first one -- on the first play of the second half -- helped set the tone for the final 30 minutes.
After Greg Zuerlein's kickoff went for a touchback, Chicago QB Trevor Siemian was corralled by Nathan Shepherd and John Franklin-Myers for an 8-yard loss. JFM now has 4 sacks and Shepherd 1.5 on the season as the Jets upped their season total to 34 (Bryce Huff also had a sack, giving him 3.5 this season).
"It's like I said: Our guys don't flinch," Saleh said. "There is a lot of confidence on the defensive side of the ball." He added: "I love that group. They play hard. They play fast and they're very smart."
No. 4 -- E. Moore Takes Flight
Elijah Moore needed this one.
The speedy wide receiver entered the game with 18 receptions, but no touchdowns so far this season. After a rocky start to this season, Moore's new beginning came with a 42-yard pass play to the Chicago 20-yard line in the second quarter when he bounced off a defender for the long gain. That drive, however, fizzled and a field-goal attempt went awry when holder Braden Mann couldn't get the handle on the wet pigskin.
But Moore's big moment came in the third quarter at the end of a 6-play, 53-yard drive when he caught a 22-yard scoring toss from White, making the score 24-10.
"I didn't know what to do," Moore said. "I was just filled with joy and I started running. I was just thankful." He added: "I'm just grateful I get to stand up here today and be the person I know I am and contribute to a winning game."
No. 5 -- Ty Johnson TD run
With starting RB Michael Carter out with an ankle injury sustained in the third quarter, the backfield load fell to Ty Johnson and Zonovan "Bam" Knight, who was elevated from the practice squad for the game.
Johnson, who had 5 carries for 62 yards, iced the game with an impressive, bruising 32-yard run that put the game out of reach, 31-10, late in the third quarter. Knight, a rookie, led the Jets with 14 carries for 69 yards.
"Give credit to Ty and Bam, especially when Michael Carter exited the game," Saleh said. "I just thought they did a really good job. They ran really, really hard and broke a lot of tackles. There were a lot of yards after contact."
Footnote: Johnson (14 snaps; 56%) and Knight (12 snaps; 48%) also contributed on special teams.