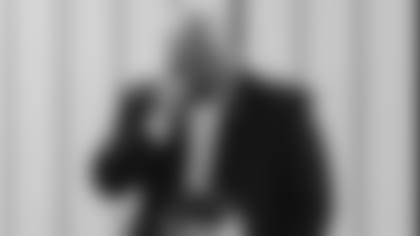 After selecting Iowa State's Will McDonald IV in the first round, No. 15 overall, the Jets are scheduled to have one pick on Day 2. They own the No. 43 overall selection (Round 2). Below are six players who could make sense for the Green & White:
DT Keeanu Benton (6-3, 309), Wisconsin
Benton was earned third-team All-Big Ten honors in 2022 and had a career-high with 35 tackles, 10 tackles for loss and 4.5 sacks. A team captain this past season, the Janesville, WI, native "flashed promising rush potential during Senior Bowl practices," according to Dane Brugler of The Athletic. Benton was the Badgers' starting nose tackle and played in 45 games (36 starts) in four seasons in Madison. He totaled 80 tackles, 19 TFL, 9 sacks, 1 FF and 4 pass defenses.
OT Matthew Bergeron (6-5, 318), Syracuse
If the Jets want to add to the offensive line, Bergeron is considered one of the best remaining tackle prospects. Bergeron, a four-year starter for the Orange, was the first freshman in school history to start at tackle since 2002. He was named second-team All-ACC and a team captain in 2022. Originally from Quebec, Bergeron's strength is as a run blocker. Lance Zierlein of NFL.com said that Bergeron could kick inside to guard on the pro level.
LB Daiyan Henley (6-0, 225), Washington State
Henley has a fascinating story. He began his college career as a wide receiver at Nevada. He switched to linebacker in 2020 and transferred to Washington State for the 2022 season when he was named first-team All-Pac-12 and led the Cougars with 106 tackles, 12 tackles for loss, 4 sacks and 3 forced fumbles. He also took 630 special teams snaps in college and led WSU with 5 ST tackles while only playing on punt coverage.
C Joe Tippman (6-6, 313), Wisconsin and C John Michael Schmitz (6-3, 301), Minnesota
Tippman, who has worked with former Jets OL Jason Fabini since sixth grade, was a two-year starter for the Badgers after moving to the position before the 2021 season. He was named to _The Athletic's _Bruce Feldman's Freaks List with a 635-pound squat and 455-pound bench press. Tippman was an honorable mention All-Big Ten in 2021 and 2022.
Michael Schmitz was consistent for the Gophers, starting 35 games and missing two the last three seasons (one because of injury, one because of opt out). He was named a first-team All-American in 2022, a first for an offensive lineman in school history since 2005. He helped lead the Gophers to a top-15 rushing offense.
S Brian Branch (5-11, 190), Alabama
Branch was a Swiss Army Knife for the Crimson Tide, earning first-team All-American honors in 2022 while leading the team with 2 interceptions. He was the only FBS player with 90 tackles, 14-plus tackles for loss and at least 2 picks. He also had 3 sacks and 9 pass defenses. Branch allowed 1 catch of 20-plus yards in 2022 and also had a 68-yard punt return touchdown. The Fayetteville, GA, native played the "star" nickel position for HC Nick Saban, the same role Minkah Fitzpatrick popularized. He totaled 172 tackles, 19.5 TFL, 4 sacks, 27 pass defenses and 4 interceptions in 40 games (23 starts).
Other top players available: Penn State CB Joey Porter Jr., Notre Dame TE Michael Mayer, Arkansas LB Drew Sanders, Tennessee WR Jalin Hyatt, Florida G O'Cyrus Torrence and Georgia CB Kelee Ringo