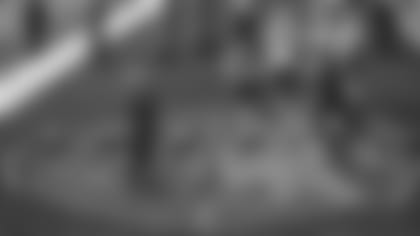 Jets coaches head to Mobile, AL, on Monday to work with the National Team in the Reese's Senior Bowl. Here are five players to watch throughout the week. For an in-depth preview of the prospects and the process, click here.
TE Trey McBride (6-4, 260), Colorado State
McBride, the 2021 John Mackey Award winner, was arguably the most productive tight end in college football with 90 catches for 1,121 yards this past season. He became the first unanimous All-America in school history as well, and has a good chance to be the first tight end drafted in April according Dan Brugler of The Athletic.
"He's a guy that can win as a route runner," Brugler said. "You love the way that his head is always whipped back to the line of scrimmage, locating the football. Drops are very uncommon on his tape. He does a really nice job accelerating out of his breaks, giving his quarterback a little more of a target. He's not a guy who's going to tip his route, he's durable. He can be as productive as his volume, so if you target him, he's going to be productive. One of the concerns is the red zone, he only had 3 touchdowns this year with 90 catches. Not the ratio you want to see, but this is a guy who is going to help you get first downs, move the chains and you need guys like that."
OT Trevor Penning (6-7, 340), Northern Iowa
Penning will be the second Northern Iowa tackle drafted in as many years (Spencer Brown, third round pick by the Bills in 2021). He was named to The Athletic's Bruce Feldman's college freaks list before the season: he can squat 625 pounds, cleans 385 and wears a size 17 shoe. Penning has put on roughly 100 pounds since starting school at Northern Iowa and was the only offensive linemen finalist for the Walter Payton Award, given to the most outstanding player in NCAA Division I Football Championship Subdivision.
"He might be the best player in Mobile regardless of position," Brugler said. "This guy is a monster, 6-7 over 35-inch arms. He's a nasty dude and this is the perfect opportunity for Trevor to say maybe I am already a first rounder, but I want to be a top-10 pick. This is going to be an opportunity for him to show that. Going up against FCS competition on tape, not a lot of guys could really compete with him and challenge him. The one-on-ones during practices are going to be huge for Trevor Penning. If he's able to shut down pass rushers in those practices, his draft stock is going to go through the roof. We could see him ascend from possibly a top-25 pick to a top-10 pick. He has that type of ability, the type of movement skills and power. There are a lot of teams excited to get their hands on Trevor Penning and see how he does at the Senior Bowl."
DL Logan Hall (6-6, 275), Houston
This time last year, Hall's teammate, Payton Turner, was gearing up for the Senior Bowl. A few months later, he was a first-round pick. Hall is hoping to follow in Turner's footsteps and had a career-high 6 sacks and 13 tackles for loss in 2021.
"He played defensive tackle for the Cougars, but I like him better outside on the edge to use that length, give him a little bit of a runway and just go to town," Brugler said. "He's still learning at 21 years old. He's a young senior and he's still discovering how good he can be and how to unlock all of that ability. Logan Hall is a player that could end up being a first-round pick when it's all said and done. I like him quite a bit."
TE Jeremy Ruckert (6-5, 252), Ohio State
Ruckert, who is from Lindenhurst NY, didn't have a lot of opportunities in the passing game at Columbus -- 54 catches, 615 yards, 12 TDs in four seasons -- partly because of the Buckeyes' talent at wide receiver. His strength is blocking.
"It's hard to blame Ohio State for not throwing it to their receivers, but when Jeremy Ruckert was targeted, good things happened," Brugler said. "Really strong hands, good pacing, good patience. I've talked to the strength staff at Ohio State and they say he's never satisfied. He pushed himself all the time and you're getting a guy, especially as a run blocker I think that's where he really shines. A guy as long as you give him targets, he's going to produce for you. I think Jeremy Ruckert will be a better pro than he was in college and it all comes down to opportunity."
CB Jaylen Watson (6-3, 204), Washington State
Watson is a long-bodied, athletic cornerback. He only played two years at Washington State after two years at Ventura College in California, where he was named to Junior College Bureau All-America first team. His stats don't jump off the page -- 44 tackles 2 INTs, 5 PDs -- but he has a fantastic backstory.
"Jaylen Watson is a guy that refused to stay down," Brugler said. "He had to go the JUCO route out of high school and was a big-time JUCO recruit, signed with USC, but the grades weren't good enough. He had to go home and was working at Wendy's earning minimum wage. He worked his way back up, got his grades back up, went to Washington State and was really productive for them. He had 2 interceptions this past year and is a guy who really blossomed as a senior and put his stock through the roof."