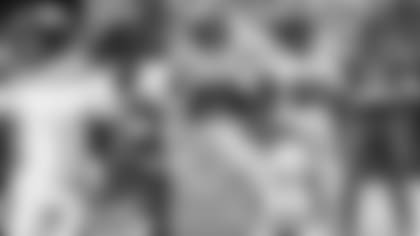 The Jets and their fans have long been a patient group. But this summer's patience is about to wear off and the urgency of the third year of Robert Saleh's brand of Jets football and the first year of the Aaron Rodgers Green & White "era" will erupt when the Jets take on the Bills in their home Monday night opener.
"I'm really excited about getting those Jets fans out there, hearing that chant and all that good stuff," Saleh said this week. "It'll be fun."
But only if the Jets can turn back the challenge from the three-year champs of the AFC East.
"They're going to have some good stuff for us, and we've just got to be good with our in-game adjustments," he said. "It's going to be a challenge."
Here are five Jets to watch as they step forward into the MetLife and MNF spotlights to take on this challenge:
QB Aaron Rodgers — If he thought his MetLife welcome was "a special moment" before the preseason finale against the Giants, for which the Jets were the road team, just wait until Monday's pregame introductions. Rodgers has embraced and has been embraced by Jets Nation throughout the offseason and preseason. But as the late Alex Trebek used to say, "It's time to go to work." Of all the things ARod has mastered over the years — incredible fast-release accuracy, superb TDP-to-INT ratio, great improvisation, leadership — perhaps most important on opening night will be his drive efficiency. His average drive distance for his career is 34.4 yards, 7th-best since 1997. He's averaged close to a field goal (2.4 points) on every drive, and at home from 2008-22, his usual output was 2.95 TDs/start. If he can rally the Jets' still forming offense to those kinds of numbers or more, it should be a good night against the dangerous but Von Miller-less Bills defense.
RBs Breece Hall and Dalvin Cook— With Hall still getting his surgical knee under him and Cook still returning from shoulder rehab and not being at practice until last week, Saleh was asked if his now 1 and 1A bellcow backs would be on snap counts. Not exactly, said the HC: "We're going to be smart with them." Mixing in Michael Carter and potentially electric rookie Israel Abanikanda and the Jets ground game could have a dynamic yet balanced committee approach early this season. If Dalvin James Cook needs any more of a spark for this one, he'll be going up against younger brother James Dalvin Cook, who earned the starting RB job for the Bills. "I think it's going to be good for our family," Dalvin said. "I just hope we don't give my mom a heart attack."
DL Quinnen Williams and the pass rush — Josh Allen is one of the NFL's elite QBs, as the Jets can attest, having lost 6 of 9 to Allen and the Bills overall and 3 of 4 at home. But they did win last year's MetLife meeting, 20-17, sacking Allen 5 times, forcing 2 fumbles and posting 2 interceptions. The secret on defense starts up front again with Williams coming off his Pro Bowl and career-best season that featured 12 sacks and and 28 QB hits, along with Carl Lawson, John Franklin-Myers, Bryce Huff and a squadron of young edge rushers in Jermaine Johnson, Micheal Clemons and Will McDonald IV. They should be able to get the ball loose at least once when Allen tucks it to do some high-wire scrambling or read/option runs. Allen had the third-most fumbles in the league last year (13) and since his rookie season in 2018 he leads the league with 52 fumbles. If Jets strip sacks are scarce on Monday, then it's up to ...
CB Sauce Gardner and the pass coverage — Just like Rodgers and Garrett Wilson on offense, Gardner gave a glimpse vs. the Giants, on one trademark longball pass breakup on his second and last drive of the night, that he might be ready to pick up where he left off. And where was that? In the rarefied air of receiving prestigious awards that included NFL Defensive Rookie of the Year as well as recognition as the NFL's top cornerback by the AP. Sauce had three of his NFL-leading 20 PDs against Stefon Diggs, Gabe Davis, Allen and the Bills, one of them becoming one of his two picks on the year. Gardner wants more takeaways, as do his defensive mates, as does Rodgers, who preaches to the D and to the team, "We're going to need turnovers." If teams decide early on to not test Sauce like they didn't test Darrelle Revis after 2009, then D.J. Reed, Michael Carter II and safeties Jordan Whitehead and Tony Adams would be the beneficiaries.