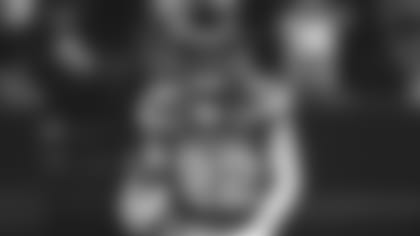 The Green & White has a week off to ponder a six-game roller-coaster capped by a thrilling 20-12 victory over the Philadelphia Eagles at MetLife Stadium late Sunday afternoon. Who would have thought the Jets would be .500, at 3-3, after quarterback Aaron Rodgers ruptured his Achilles tendon on the team's first offensive series of the 2023 NFL season.
Instead, the tenacious defense constructed by GM Joe Douglas, HC Robert Saleh and DC Jeff Ulbrich has helped to engineer wins over AFC East defending champion Buffalo, Denver and now the defending NFC champion Eagles, while taking defending Super Bowl champion Kansas City to the wire in a loss.
The Jets' two top cornerbacks -- Sauce Gardner and D.J. Reed -- were out with concussions against the Eagles.
The Jets again fell behind by double digits at home in the first half.
No TDs on offense for the second straight week? The defense held the Eagles scoreless in the second half and is now No. 1 in the league, having allowed an average of 5.2 points (25 overall) in the final 30 minutes of games this season.
Philadelphia, that other green team, came to town with an unbeaten 5-0 record, a powerful offense and a stingy defense.
The Eagles, a team that had been averaging 13.8 points in the second half before Sunday's game, were held scoreless in the final 30 minutes as the defense swiped three of Jalen Hurts' passes and recovered a fumble.
No. 1 -- Tony Adams Interception
After missing two games (both losses) because of an injury, Tony Adams has played in two-straight victories -- providing the game-changing interception against the Eagles that led to Breece Hall's game-winning late TD on Sunday.
As the Eagles, leading by 14-12, were driving for an insurance score late in the game, Adams stepped in front of a Jalen Hurts pass intended for TE Dallas Goedert at the Jets' 47-yard line and scampered 45 yards to the Philadelphia 8-yard line.
The undrafted free agent safety out of Illinois muscled his way into a starting role and head coach Robert Saleh expects even more from the second-year player.
"He's been great," Saleh said. "You have to remember, he's young. He's a second-year player. As excited as we are about him, we know he's going to have some ups and downs. The ups are going to continue to become more and explosiveness and speed and instincts. I stand by it — I think he's going to be a fixture here for a while."
The pick was the first of Adams NFL career and was nearly a pick-6.
"I definitely thought I was going to score," Adams said. "I had a game-winning interception before in college, but it was nothing like this. To do it with these guys and this locker room, after all we went through, after the late news this week [Gardner's concussion], it is an honor. It's an honor to [handle] business with these guys, just doing my job."
No. 2 -- Bryce Huff Sack
Midway through the fourth quarter, with the Eagles deep in Jets territory trying to build on a tenuous 14-12 lead, DL Bryce Huff ran down QB Jalen Hurts for a 4-yard sack (Huff had 1.5 in the game). The Eagles set up for a field goal that would have increased their lead to 5 points, but kicker Jake Elliott pushed it wide right.
"I'll tell you what, on the defensive side we've been through hell and back," LB C.J. Mosley said. "Looking back to '21, the injuries we had, new defense, just trying to learn how teams were attacking us. So, we have been in this scenario before as a defense." He added: "So, everyone just adjusted, believed in each other and we feel if you can communicate together, we can be a great defense regardless."
No. 3 -- C.J. Mosley Forces Fumble; Quincy Williams Recovers
One play after his brother's roughing-the-passer penalty, Quincy Williams (who led the Jets with 12 total tackles, plus a TFL and pass defensed) nearly fumbled a fumble created when C.J. Mosley used his elbow to dislodge the ball from RB D'Andre Swift inside two minutes of the first half.
Eight plays later, after moving to the Eagles' 17, Greg Zuerlein converted a field-goal attempt from 35 yards to draw the Jets within 5 points at 14-9 with 2 seconds left in the half.
"Those types of games, you just got to appreciate," Mosley said. "You're sitting there in the middle of the field lights on, just shining everywhere during the TV time out, and there's a lot of stuff that could be running through your mind, but you're just blessed to be out on the field with everything that's going on. Outside of football, we have to share our gratitude for each other, work together, grind out these tough wins, have our brothers back when things aren't going well. That's what this football life is all about."
No. 4 -- Interceptions: Jermaine Johnson Has a Hand (Literally) in Two
The first of the Jets' three interceptions of the game was also the first of DL Quinnen Williams' NFL career. Jalen Hurts' short pass over the middle fell briefly into the arms of Dallas Goedert before second-year DL Jermaine Johnson knocked it free. It caromed into the arms of Williams who lumbered 7 yards to the Philly 45-yard line.
"Coach always gets on us about running to the ball, I just played it and ran to the ball.," Williams said. "I think Jermaine Johnson made an unbelievable coverage play, so he's playing lights out. And like I said, he's communicating and executing to the highest level, and I think he just knocked the ball out and it just fell right into my hands, so when I got it I was like, 'O.K. I'm going to score.' I tried to turn on the jets."
On Hall's INT, his second takeaway in as many games after last week's fumble recovery for a TD that iced the game in Denver, it was again Johnson having a hand in the play. Early in the fourth quarter, with Philadelphia at the Jets' 42, Johnson broke in off the left side and hit Hurts' arm. The ball fluttered in the air and fell to Hall, who returned it 5 yards to the 38-yard line.
"Bryce, oh man," Saleh said. "I said it in the press conference earlier in the week, that kid. When you go from starter, and then you watch the organization draft someone [Sauce Garnder], and then pay someone [D.J. Reed], and you get relegated to backup duty, and he remakes himself on special teams. Always preparing himself the way he needs to. With all of the different personnel groupings, we were trying to mix-and-match, moving our corners around so they couldn't get a beat on it. You can't do it without a guy like Bryce and his ability to communicate. He's so smart on the football field, managing the back end and making sure we were aligned the way we needed to be every play. He's awesome. He's such a good dude."
No. 5 -- Veteran Kickers Do Their ThingKicker Greg Zuerlein (35) and punter Thomas Morstead (37) are among the oldest players on the Jets' 53-man roster. They have also been among the most valuable through six games.
On Sunday, Zuerlein connected on all four of his field-goal attempts (43, 42, 35 and 38) while Morstead planted 3 of 4 punts inside the Eagles' 20-yard line (with a long boot of 54 yards).
Zuerlein, who was coming off a 5-of-5 performance at Denver, has converted 14-of-15 attempts so far this season (plus all 5 extra-point attempts). His only miss was on a 52-yarder against Kansas City, which hit the right upright.
Of Morstead's 29 punts this season, only 2 (6.9%) have been touchbacks while he's landed 12 (41.4%) inside the opposition's 20-yard line -- which includes 3-of-4 punts against the Eagles. Finally, against New England, Morstead's free kick after the Jets took a safety went for 75 yards.