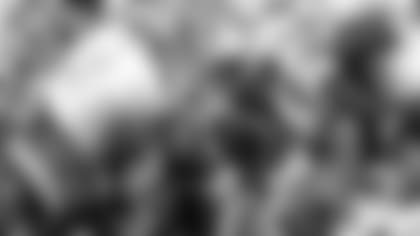 One way to spice up a game in the second week of the NFL preseason is to put it on national TV. That's what will happen for the Jets' second game of summer against the Washington Redskins at FedEx Field (8 p.m. ET).
And ESPN has a shot at a good one as the Jets build off of last week's 17-0 preseason-opening home win over Atlanta while the 'Skins and new veteran QB Alex Smith want to get their own momentum going after last week's 26-17 loss at New England.
The Jets' last national preseason game was in 2012 vs. Carolina on NBC. Their last ESPN summer game was 2011 at Houston. Their last nationally televised road preseason win: 2004 at Indianapolis. Can the Jets get to 2-0 and flash some more promise for the regular season? Here are four things to know about Jets-'Skins:
The QB Rotation
One of Bill Parcells' favorite lines when asked about something he wasn't ready to divulge was "You'll have to come to the game, fellas." Todd Bowles, who was an assistant coach on teams for which Parcells was either the HC or front office executive, has that part of his job down. Pressed by reporters Tuesday on if rookie Sam Darnold would start vs. Washington, Bowles' unwavering answer was: "All our quarterbacks need to be ready to play."
Start or not, Darnold seems in line for plenty of playing time after getting extended action vs. the Falcons and during the three days against Washington. "Two-minute Sammy" produced his first touchdown drive and first TD pass as a pro in the final two minutes of the first half and had another two-minute success in the last team drills vs. the 'Skins on Tuesday. He'll try to expand his impact Thursday while Josh McCown and Teddy Bridgewater will also "need to be ready."
Defense
Members of the Jets' first D thinks this can be a big year. They played only two series Friday but were still a part of a strong first half in which the Falcons managed 60 yards, one first down and no points. Washington's ones and twos, with Smith sitting out, still rolled to 259 yards and a 17-3 first-half lead against the Patriots, and the Smith offense moved well against the Jets' ones at Tuesday's practice. This should be a stern road test for Leonard Williams, Darron Lee, Jamal Adams, Marcus Maye and the rest of Kacy Rodgers' unit in the Maryland countryside.
Special Issues
Whether rookie Trenton Cannon is ready to play and attack his punt return nerves that showed up vs. Atlanta, the Jets have a hot competition at returner as Andre Roberts and Lucky Whitehead are also in the KR and PR depth charts with Cannon and trying to win roster spots. At kicker, Cairo Santos continues to come along slowly from last year's groin issues. Santos' availability notwithstanding, first-year man Taylor Bertolet has another opportunity to improve his profile in the fight to make the Green & White's final 53.
Summer Heat
WR Terrelle Pryor and the Washington defense didn't get along when Pryor was a Redskin last season and this past week during joint practices. Pryor, still working through foot problems, is not expected to dress for the game. But all other Jets who occasionally jawed and scuffled with the 'Skins this week should be in uniform, and the teams' camp experiences could lend an extra edge to this one. But as Adams indicated, any edge may just come from a good week of competition: "I think it was a great trip. We all enjoyed it and we appreciate the Redskins."