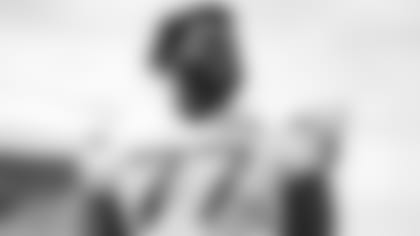 It wasn't all quarterbacks on Tuesday when Joe Douglas spoke in Indianapolis at the start of the NFL Combine workouts.
Some of what the Jets general manager discussed had to do with very promising reports on four injured and rehabbing players, all on the offensive side of the ball.
A couple of those players are important pieces to the Green & White's offensive puzzle, though, since they both have played left tackle and blindside protector for the QB behind them.
Mekhi Becton hasn't seen a lot of action in his three seasons as a Jet, but the GM said the big young man is ready to return to the starting form he showed in his 15 games (14 of them starts) at left tackle.
"For any of you who were here in the 2020 season, you saw what a healthy Mekhi can do on the field and how dominant a player that he was early in his rookie year," Douglas said. "Unfortunately, the last few years had been frustrating from an injury standpoint, but I can tell you that Mekhi is in as good a place now as I've seen him in a long time, he's working his tail off, and he wants to be the best player he can be for the New York Jets."
Part of the solution for filling the void left by Becton's season-ending knee injury last August was the addition of veteran Pro Bowl LT Duane Brown, who missed the first four games, then started the last 13 despite a serious shoulder injury.
"Duane just had a procedure on his shoulder. He's recovering well," Douglas said. :"For him to do what he did last year, to play with the injury that he played with, I don't think we could find a documented tackle that played with the injury that he had for an entire year. It's a special thing and I know we hold him in very high regard as a person and a player."
Retirement is a possibility for Brown, who turns 38 at the end of August and would be entering his 16th NFL season in 2023. But Douglas said, "Let him recover a little bit. We'll have those discussions as the offseason progresses."
One more "left tackle" on the mend is Alijah Vera-Tucker, who began the season at his RG home, then moved to LT for one game for Brown returned to the lineup, then finished with three starts at RT before suffering his season-ending elbow injury at Denver. AVT is the only Jets O-lineman since at least 2006 to start at three different line positions in the same season.
The other offensive players in question is RB Breece Hall, whose outstanding rookie start was short-circuited by a knee injury, also vs. the Broncos.
Douglas wasn't etching any return dates in stone for these players, but he was bullish on Becton being ready to start the season and spoke optimistically about the progress of all four players.
"Breece is doing great in his recovery. I know he had a visit with Dr. Cooper in Dallas and he's progressing great," the GM said. "Really, Breece, AVT, Mekhi, they're all doing great in their recovery and we feel good about their return."