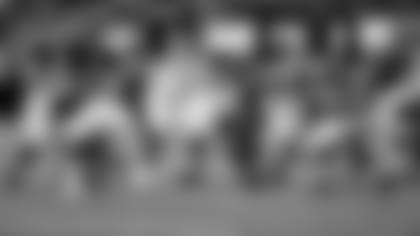 Starting Early
For the second consecutive week, the Jets won the coin toss and elected to receive. And again, Sam Darnold promptly led the visitors on a touchdown drive that culminated on Ty Montgomery's 1-yard scoring run towards the left corner of the end zone.
Montgomery ran behind a line that started Kelvin Beachum, Alex Lewis, Jonotthan Harrison, Tom Compton and Chuma Edoga from left to right.
"I think we performed well," said C Jonotthan Harrison of O-line. "I think there are some things that we could clean up, but communication wise, we were there. Building that bond with them (Lewis and Compton) just comes with reps. Alex is very new to the team, but he did a great job jumping in there. Compton is a pro's pro. He's very reliable."
Against the Giants, Darnold got chunk plays to TE Chris Herndon and WR Jamison Crowder before the second-year passer finished the quick scoring march to Crowder. This week, he went to Quincy Enunwa and Robby Anderson early as the visitors got into a good rhythm immediately.
"That's what we want to do. We want to set the pace on offense," Montgomery said of the opening drive. "We're trying to score as many points as possible."
Williams Unleashes the Heat in Hotlanta
The Jets racked up five quarterback sacks in their 22-10 victory, three of which came in the first half. Safety Jamal Adams started the festivities with a sudden rush through a gap on the line for a takedown of Matt Ryan. Brandon Copeland and Avery Williamson followed in the second quarter with sacks on back-to-back plays.
Then in the fourth quarter, defensive lineman Bronson Kaufusi registered a strip-sack of Matt Simms and the fumble was recovered by LB Anthony Wint in plus-territory. That takeaway led to the go-ahead touchdown from Luke Falk to Deontay Burnett. And finally with the clock ticking down, third-year linebacker James Burgess sealed the victory with a pick-six.
"I feel like we played well, we all got to the ball and that's something we talk about," said CB Brian Poole about the defense. "Any time the defense gets turnovers it's definitely a plus. I feel like we did well in that category tonight."
Extra Point(s)
In his first game back with the Jets, kicker Taylor Bertolet had an up-and-down evening. He connected on a 49-yard field goal and an extra point inside Mercedes Benz Stadium, but the 26-year-old also misfired on a pair of extra points.
"Right now this is where we're at. This is what we're going with until we have those discussions," Gase said when asked about adding another kicker to compete with Bertolet. "When we get back in the morning we'll be able to watch film. You want to be able to make sure the operation was right, or if there were reasons for the misses. That's what (special teams coordinator) Brant Boyer is really good at and he'll be able to figure out what's going on and we'll keep working on it."
Bertolet, who was perfect on all four of his preseason kicks for the Jets during the 2018 preseason, rejoined the club Sunday after Chandler Catanzaro missed two extra points during the Jets' preseason opener against the Giants and retired last weekend.
"To be honest, I am just focused on being the best me. If there is competition, that does not really change anything. My job is to go out there and to go one for one," said Bertolet, who also added, "I am trying to be the kicker, not just a guy competing for the job. There is pressure being a kicker. It is part of your job to handle it. It is part of your job when you miss, you have got to be able to bounce back and go one for one."
Jetcetera
RB Le'Veon Bell and DL Leonard Williams were among the spectators Thursday. Gase was pleased with Bell's work throughout the week as the team has gradually increased his touches in practice. Williams returned to practice Tuesday after missing more than a week due to hip irritation. The Jets gave second-year lineman Folorunso Fatukasi the start in the Big Cat's place… RT Brandon Shell injured his knee in warm-ups and Edoga manned the RT role with the first team…LB Avery Williamson collided with CB Tevaughn Campbell and was ruled out with a knee injury…LB Jamey Mosley was evaluated for a knee injury...OLB Frankie Luvu started and Gase commented afterwards about the depth at the position.
See Best Images of the Preseason Matchup in Atlanta