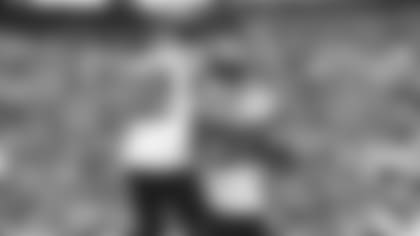 The Jets (4-2) extended its winning streak to three games on Sunday, taking down the Packers (3-3) 27-10. Here are three takeaways from the game.
Flipped the Switch at the Half
The Jets were a team of two halves. After the first two quarters, the offense had a net total of 80 yards and 3 points. QB Zach Wilson threw for 28 yards completing 6 of 12. In the second half, the unit had 198 yards and scored 24 points. Wilson completed 4 of 6, including a 41-yard throw to WR Corey Davis that led to the Jets' first touchdown in the third quarter this season. Their +48 fourth-quarter margin is the second-best point differential by any team through six games in the last decade, according to ESPN Stats and Info.
"The mindset to go 60 minutes," Robert Saleh said of his halftime message. "And to give them 60 percent more. Just keep giving [the Packers] body blow after body blow after body blow. Just keep hitting them, keep hitting them in the mouth. O-line just keep pushing and just keep leaning on them. We felt like if we could just keep taking them down to deep water, they'll find out they can't swim. It was just a mindset. I thought our O-line was outstanding, especially in that fourth quarter. Just leaning on them, especially in the run game."
Special Teams Travel
The Jets' special teams made a statement on Sunday in the 27-10 win in Green Bay. DT Quinnen Williams blocked Mason Crosby's field-goal attempt on the first play in the second quarter, which would have given the Packers a 3-0 lead. It was Crosby's first miss of the season.
In the third quarter, rookie DL Micheal Clemons blocked Pat O'Donnell's punt that was recovered by S Will Parks, who ran 20 yards for the score and put the Green & White up 17-3. It was the Jets' first score off a blocked punt since 2019. They became one of four teams since 2000 to block a field goal, and a punt for a touchdown in the same game.
"We were dialing stuff up all game," Parks said. "Coach [Brant] Boyer does a wonderful job making in-game adjustments, seeing whose the weakest part of the team or who's giving up a lot of pressure. Kudos to him with that dial up. Mike Clemons coming in, but he's been doing that to people all year long -- putting people guards and tackles on their punt team in their punter's back pocket. That was a team thing, I just scooped it up and the rest was history."
Saleh added of Clemons: "He's been under the radar. He's been playing really well this whole season. He's being asked to do all the grunt work. He played well on defense, he's playing well on special teams. He's doing anything and everything that is asked of him. Just love his mindset and what he brings day in and day out."
D-Line Sets Tone
The Green & White's defensive line set the tone. It accounted for the team's 4 sacks, all 9 QB hits and all 5 tackles for loss. DE Vinny Curry made his Jets debut after missing all of last season with a rare blood disorder and the first five games this season with a hamstring injury. Curry wasted little time reacclimating himself, taking down Packers RB A.J. Dillon for a 2-yard loss in the first quarter.
"I was super excited," DT Quinnen Williams said. "That tackle for loss he got, I was pumped up to see that because Vinny Curry is one of the best leaders outside of Steve McLendon that I've ever had the chance to be around. … The different tools, juice and knowledge that he brings to the defensive line room is a gem to me. I'm so happy to have him as a part of this team the last two years."
See the best images from the victory over the Packers at Lambeau Field.