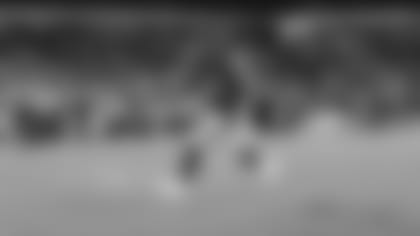 The main storyline from the Jets' 24-21 preseason win over the Eagles is the injury status of QB Zach Wilson, who left Friday's game with a knee injury and will undergo an MRI on Saturday. But here are three takeaways from the Green & White's come-from-behind victory in Philadelphia.
UDFAs Impress
A pair of undrafted free agents -- RB Bam Knight and WR Calvin Jackson -- helped the Jets overcome an 11-point deficit in their 24-21 preseason win at Philadelphia. Knight, who finished No. 1 in N.C. State history with 5.45 rushing yards per attempt and 29.8 yards per kickoff return, was a dual threat in his first game for the Green & White.
His hard-fought 2-yard touchdown run in the third quarter, the team's first score of the preseason, cut the Eagles' lead to 14-10. Then in the fourth quarter down, 21-17, with 1:40 remaining in regulation, Knight's 52-yard kickoff return put the offense on its own 47-yard line.
Six plays later, QB Chris Streveler hit Jackson for the game-winning score, a 5-yard TD.
"That just speaks to the depth that we have," S Will Parks said. "Other than that, the resilience that the young guys have back there. … Like Coach Saleh talks about, the extra 60% and the grit, those guys showed it there tonight. It's good to build on it."
Defensive Line Eats
The defensive line is debatably the Jets' deepest position and it showed Friday night.
The group accounted for 4 of the team's 5 sacks. DT Tanzel Smart had 2 sacks and 3 QB hits; Jabari Zuniga, who's had a nice camp, had 1 sack and 2 QB hits; and rookie Micheal Clemons notched his first NFL sack in Gotham Green. After allowing two touchdowns on their first two drives, the Green & White did not allow any points in seven possessions.
"Really good execution across the board," HC Robert Saleh said. "I thought the defense did a great job. They had that one drive, but up until then, they were getting a lot of three-and-outs and doing a really nice job."
Tight Ends Featured
If the preseason opener is any indication of what's to come, expect the tight ends to be featured in Mike LaFleur's offense in 2022. Five TEs caught passes -- Tyler Conklin, Trevon Wesco, Kenny Yeboah, Lawrence Cager and Jeremy Ruckert.
Cager, a converted wide receiver, led the team with 40 receiving yards. Conklin, who's been tremendous since signing with the Jets in March, had 3 catches for 29 yards including a conversion on third-and-9. But it was the rookie, Ruckert, who gave the Jets their first lead of the game.
With 5:21 left in the fourth quarter, he slipped behind the defense on fourth-and-goal from the 1-yard line off play action as Mike White found him in the end zone. That put the Jets up, 17-14.
"It felt great just to be out there," Ruckert said. "I missed a lot during camp. It's pretty hard having never missed anything and having to deal with that. Having to watch and learn from the sidelines instead of being out there was pretty tough, so making the most of it when I was out there. It felt good to be out there and feels great to score."
See the best images of the Jets' 24-21 victory during the preseason opener at Lincoln Financial Field in Philadelphia.