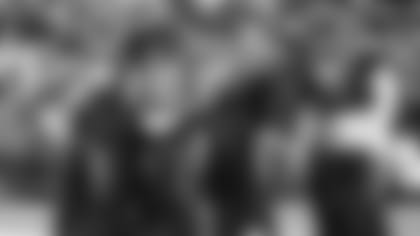 The Jets (7-7) lost to the Lions (7-7), 20-17, at MetLife Stadium in a Week 16 game on Sunday. Here are three takeaways.
Playoff Implications
After falling to .500, the Jets have a simple recipe to close the season.
"Everyone knows it, we have to win out," HC Robert Saleh said. "We have a quick turnaround. We have a Thursday night game with Jacksonville coming to town. Another high-octane offense."
The Jets entered Sunday's game as the AFC's No. 9 seed and may not control their own destiny in pursuit of a playoff berth.
"It was gone because this game was a playoff game," CB D.J. Reed said about the team's margin for error. "We didn't want [our playoff chances] to be in anyone's hands if such and such wins or if such and such loses. We were just like, 'Shoot, just win out'. If we win out, we don't have a problem. Obviously the metrics are probably going to play a part now. All we can do is just take it one game at a time."
Pair of Fourth and 1s
The Jets' defensive performance was sandwiched by a pair of fourth-and-1 plays -- one that went their way and one that did not.
Detroit opened the game by driving 73 yards in 14 plays to the Jets' 1-yard line. Lions RB Jamaal Williams, who leads the NFL with 14 rushing touchdowns, was stuffed by LB Quincy Williams and Detroit turned the ball over on downs.
The Lions' lone offensive touchdown came on fourth-and-1 out of the 2-minute warning in the fourth quarter. QB Jared Goff hit TE Brock Wright, who coincidentally did not block Williams on the fourth-and-1 stop earlier in the game, for a 51-yard score (47 yards after the catch) that gave Detroit a 20-17 lead.
"We were playing aggressive defense because it's fourth-and-1, so you have to play aggressive," Reed said. "If we stop the run, we win the game. He blocked whoever he blocked for about 1-2 seconds, which if you see your man block, you're going to naturally trigger for the run. He kind of just squirted out to the opposite side of the field and was wide open."
"As a defense we put that on us because we want to be in those situations. We have a top defense in the NFL, so we put that on our chest and we'll take that to the chin. Obviously we're going to watch the tape and learn from it but we have to give credit to them for that play."
C.J. Mosley added: "Felt like we played really well the whole game. It sucks really bad that one play changed the whole game, but it's just how it works. Have to execute in every phase on every down. We didn't execute that play and they got a touchdown off of it."
Special Teams Blunders
The Jets special teams unit was in focus on Sunday, but for the wrong reasons.
Lions PR Kalif Raymond, who played two games with the Green & White in 2017, gave Detroit a 7-0 lead with a 47-yard punt-return score. It was the first of his career and the second the Jets have yielded this season. P Braden Mann was backed up on the end line after the Jets went three-and-out on a drive that began on their own 2-yard line (after the Williams stop on the Lions' fourth down).
Then with 1 second remaining in regulation, Jets K Greg Zeurlein lined up for a 58-yard game-tying field-goal attempt that sailed wide left.
"I don't think there's any blame to be passed," said Zeurlein, who had connected on 6-of - field goal attemptss over 50 yards entering Sunday, including a franchise record 60-yard boot. "I should've made the kick no matter the distance. I didn't hit it well."
He added: "If I strike the ball like I know how, I'm going to make the kick. It didn't happen today, unfortunately, but I'm very confident in my abilities. Just have to execute where it happens."
See the best images from the Week 15 matchup between the Jets and Lions.