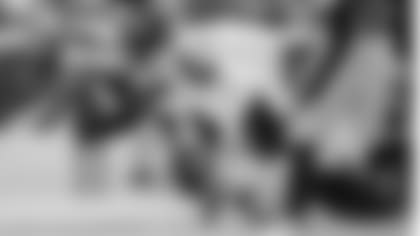 The Jets (5-2) on Sunday extended their winning streak to four games, taking down the Broncos (2-5), 16-9. Here are three takeaways from the game.
Sloppy Win
Despite a victory, the Jets did not play their cleanest football. They were outgained in total yards (324 to 260), threw for 105 passing yards compared to Denver's 219 and ran 22 fewer plays than the Broncos (53 to 75). The Green & White was also penalized 11 times for 85 yards, 8 of which were called in the first half.
"It was sloppy," HC Robert Saleh said. "Especially in the first half, a lot of self-inflicted wounds. Whenever you're committing penalties, it's because they're going faster than you. That's plain and simple. It took us a second. I felt like it was a little bit cleaner in the second half. It could've been a lot cleaner, but credit to the guys. Back-to-back road trips are never easy in this league, especially coming out here on this trip. I thought they gutted one out."
Another Critical Special-Teams Performance
The Jets special teams continue to be a major factor (and wins). With expected wind gusts of up to 30 miles per hour, K Greg Zeurlein accounted for 10 of the team's points – 3 field goals, including a pair in the fourth quarter, and an extra point.
"It's the difference," Saleh said. "Their kicker misses a field goal and an extra point, Z split the uprights every time. With that team, points are going to be hard to come by. Z gave the confidence for me, even on those fourth-and-1s where the analytics say go for it. I felt like it we kept chipping away, points were at a premium."
P Braden Mann and the punt unit were stellar. Mann averaged 54.8 yards per punt on 8 kicks, including a long of 72 yards. He pinned Denver inside its 20-yard line twice, including once on the 1-yard line as Brandin Echols, the starting gunner opposite Justin Hardee, downed the ball by the sideline.
"The way we look at it, we have to try and flip the game someway somehow," Echols said. "Hardee and I always put our best to make sure that we're getting down there regardless if we need to or not. Special teams is such a big emphasis on the game, especially in the league. I'm just hype. Hardee had to breathe that in to me because I didn't play special teams last year. After I bought in and I'm really seeing what special teams could do for the game, that's when I started liking it and that's all because of Hardee.
Win Comes at a Cost
The Jets are off to their best start since 2010, which is the last time the team made the playoffs. They've been relatively healthy through the first six weeks of the season, but the injury bug bit in Week 7. The Green & White lost 3 starters on offense in the second quarter -- rookie RB Breece Hall (knee) , RT Alijah Vera-Tucker (elbow) and WR Corey Davis (knee).
After giving the Green & White a 7-0 lead with a 62-yard TD run, Hall exited the game after a 2-yard run and did not return. Saleh said the initial diagnosis is "not good." He said it's an ACL injury. Vera-Tucker will be evaluated Monday and Saleh is not concerned about Davis' injury long term.
Cedric Ogbuehi, a Bengals first-round pick in 2015 who signed with the Jets on Sept. 27, took over for Vera-Tucker at RT.
"Ced is a heck of a player," C Connor McGovern said. "He's been in the room for a little bit now, he knows what he's doing. I always try and communicate as much as possible. Stuff is going to happen, especially in a loud stadium, but he's a heck of a player and came in and did a good job for us. He's a first-round pick and he's a freak athlete."
See the best images from the road victory in Denver.