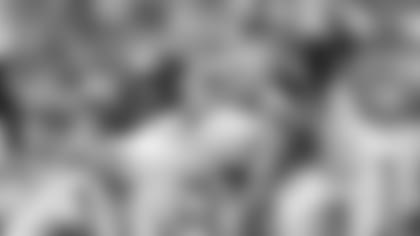 After a seesaw affair that included three lead changes in the fourth quarter, the Jets finished the preseason with a perfect 3-0 mark after taking down the Giants, 31-27, at MetLife Stadium. The team has its final roster cutdown on Tuesday and will open the regular season in two weeks when the Baltimore Ravens visit on the 21st Anniversary of 9-11. Here are 3 takeaways from the Jets' latest summer thriller:
Legend of Streveler
What else would you expect? A Jets preseason game in 2022 meant Chris Streveler heroics.After leading the Green & White to come-from-behind victories over the Eagles and the Falcons to start the preseason, Streveler did it again while leading the Jets to a thrilling 31-27 win over the Giants. He completed 10 of 13 for 96 yards and 2 TDs including the game winner to Calvin Jackson in the final seconds for the second time in three contests.
"It's always exhilarating when you have an opportunity to go down and put a two-minute drive together and that type of stuff," Streveler said. "There's no hero in the game. It's everyone making plays. … It's always exciting when you have that opportunity at the end of the game with a couple of minutes left to go down and potentially win a football game."
Joe Flacco and the first-team offense played four series against mostly Giants backups and two of those possessions resulted in turnovers. After moving the ball 51 yards to start the game, Flacco did a nice job on third down and found RB Michael Carter as an outlet. Carter had enough for first-down yardage, but the ball was jarred free and Giants LB Austin Calitro recovered to prevent a scoring threat.
Early in the second quarter, Flacco again looked for Carter on third down after dancing out of the pocket to the right. Calitro watched Flacco's eyes, dropped into coverage and not only intercepted the ball but returned it 35 yards for a TD.
"It's definitely aggravating the way things ended there, just the way we turned the ball over and the way we did it at the end there," Flacco said. "I was trying to hold on as long as I could and I feel like Michael was kind of breaking up the field as I was heading towards the out of bounds line there and I just tried to get it up over his head and I just kind of yanked it right to the guy's chest. So, definitely annoying that that happened."
In relief of Flacco, Mike White had his best summer effort. In an impressive second quarter, White went 10-of-13 for 142 yards with 2 TDs. The Jets had 263 yards of total offense in the first half. During CBS New York's game broadcast, Jets GM Joe Douglas said starting QB Zach Wilson's rehab is "very much on track" following surgery on his right knee and is "progressing great" from his procedure.
Wideout Race
Denzel Mims, days after reportedly requesting a trade, was fantastic throughout and cashed in on his chances. Targeted eight times, Mims had seven catches for 102 yards and a touchdown. He averaged 14.6 yards a reception and did a stellar job with body control on his 29-yard diving grab in the end zone on a toss from Streveler that tied the game at 24 in the fourth.
"I feel like I can do anything that I set my mind to," Mims said. "All I've got to do is just come out, play hard, play physical, do my job and get off all the plays."
HC Robert Saleh said of Mims: "He's one of our six best receivers and he's going to be here as far as I'm concerned."
With the Jets set at their top four wide receiver spots (Corey Davis, Elijah Moore, Garrett Wilson and Braxton Berrios), the race at No. 5 and beyond is intriguing heading into Tuesday's roster cutdown. Veteran Jeff Smith, a special-team standout, had three catches for 41 yards including a nifty double-move that resulted in a 19-yard score from White. Rookie Calvin Jackson had two catches including the game-winning score and contributed with a 19-yard punt return.
Carter II's Close; Sauce Named a Starter
Most of the cornerback talk during training camp focused on the outside after the free-agent signing of D.J. Reed and drafting Ahmad 'Sauce' Gardner. Second-year nickel Michael Carter II largely flew under the radar, but he ended the preseason with a strong showing against the Giants.
He started with a sack of Tyrod Taylor that he split with DT Quinnen Williams, coming untouched off the right side of the line of scrimmage on a 3rd-and-8 play. Carter, Williams and Carl Lawson all converged for a party at the QB.
Moments later, Carter seemed to bait Taylor. After the elusive passer eluded an initial rush, he got caught deciding whether to run or throw it and picked the latter. Carter corralled the INT in plus-territory, setting up Greg Zeurlein's 49-yard field goal that got the Jets on the board.
Gardner, who started on the outside opposite Brandin Echols, was not targeted in preseason action. After the game, Robert Saleh confirmed Gardner will be an opening-day starter on the outside.
"It meant a lot," Gardner said. "I just had to come in here and be myself. They drafted me for a reason; they drafted me not to be nobody but myself. I appreciate the way they made me work for it instead of being like, 'He's the fourth pick, let's just put him in there.' They made me work for it, so they didn't jeopardize the respect that the DB room has for me and the coach. I appreciate that."
See the best images from the preseason finale against the New York Giants.