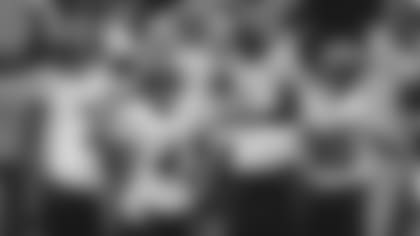 Positive Vibes
The New York Jets have arrived at their bye with a 6-3 record. They are surging with 5 wins in their past 6 games and their 5 conference wins are the most in the AFC. Residing in the NFL's only division where each team is over .500, the Jets' competed their home slate of division games with a 2-1 mark. The Jets and the Eagles are the only NFL teams that have unblemished road records at 4-0. The Green & White also lead the league in fourth-quarter scoring differential at +58 points.
The Jets have one of the top defenses in the league, a fast, violent group that has playmakers at all three levels. DT Quinnen Williams (7 sacks, 17 QB hits) is having an All-Pro season and the revamped secondary, which has had 6 different players record interceptions, has contributed to a unit that is tied for second in the NFL with 11 INTs. The Jets arguably have the NFL's top outside CB tandem with D.J. Reed and Sauce Gardner and they are the only team that has registered 6 or more PDs in 4 of the last 6 games.
DL John Franklin-Myers said of Williams: "We all understand that you see how he's playing at an All-Pro level, and he makes the team better. With him, the sky is the limit and we all just want to play off of him and just help him be great. I think that's going to lead us to success, also."
Offensively, QB Zach Wilson is 5-1 as a starter and he completed a career-high 72% of his passes against the Bills in an upset win last Sunday. Rookie wideout Garrett Wilson has been electrifying and leads all rookies with 3 games of 90+yards receiving. The Jets are continuing to adjust without two of their top performers in rookie RB Breece Hall and OL Alijah-Vera Tucker — the two sustained season-ending injuries in Denver. But the team's depth and resourcefulness continue to be highlighted in the backfield and up front. When they needed a drive in the fourth quarter against the Bills, the Jets imposed their will on a good defense by pounding Michael Carter and James Robinson, running 10 times for 77 yards before a game-winning field goal. The Jets are hoping to get back wideout Corey Davis, who is averaging 18.5 yards a reception after the bye, but has missed the last two games with a knee injury. And they are continuing to look for ways to get Elijah Moore more involved in the offense.
"We're trying to find him more opportunities the slot," HC Robert Saleh told CBS Sports' Josina Anderson this week. "I think he had 27 plays last week. Elijah's a great football player and he's going to be a big reason we win here for a very long time. Obviously, it's on coaches to continue to find ways to get him the ball, find ways to get him opportunities. It's a new position because we've been playing him outside for the most part. We're trying to find ways to utilize all his strengths."
Brant Boyer is again coordinating an excellent special teams group that turned in one of the most defining plays of the first half, executing an onside kick in Cleveland in Week 2 that helped propel the Jets to a miraculous comeback victory over the Browns.
Faith and Belief
After the Jets dropped their season-opener, 24-9, to the Ravens, HC Robert Saleh told reporters that success was on the horizon for his young team. He saw a group that played with speed and physicality, had outgained Baltimore by nearly 100 yards and produced 11 more first downs.
* "*We're always trying to accelerate the process and win immediately," Saleh said before his team went on a 5-1 run. "We'd love to. We are frustrated with it. We're not playing the long game and selling that. We want to win — we want to win now. And we put the onus on us as coaches and we've got to find a way to get it fixed and find a way to accelerate all their growth and their development. But at the same time, it is a collective effort and I appreciate all of it. Trust me I do. There is nothing worse than being sold a bill of goods on the future."
Saleh always had faith and now his maturing team is making believers of the rest of the NFL.
"I go back to that whole thing of faith and belief, like most of the people in the world nowadays need to see things happen before they think it's possible," Saleh said. "The people who have no ceiling in life can see things happen before they ever happen, they know it's possible before they ever see it happen. So, you just have faith, you got to have faith in the fact that what you're trying to accomplish as an organization, as a team, as a coach, as a player, is possible, and while it may not be visible at that particular moment, you just have faith that it is because you have so much faith in yourself as an individual."
Added MLB C.J Mosley: "It doesn't really matter who believes us outside of the building, we believe in each other. We put in a lot of work this offseason and obviously throughout the middle of the season. We just got to keep doing what we've been doing. Going into today, we've been really optimistic. We haven't really been focused on who's the better team and what guy is at this spot. When we step on the field, we know once we get on the field, we can run with anybody if we're doing our job, and that's what we've been proving."
Meaningful Football in December and Beyond?
Back in March at the annual league meetings in Palm Beach, FL, Jets GM Joe Douglas made it clear what his expectations were for the 2022 season.
"We need to be playing meaningful games in December," he said
The Jets have already guaranteed themselves that. They certainly look capable of playing meaningful games in January, too. Douglas, assistant GM Rex Hogan, director of player personnel Chad Alexander, director of pro personnel Greg Nejmeh, and the entire personnel staff nailed the offseason. The secondary was rebuilt, there was an overhaul at tight end, the lines were fortified and the 2022 draft class produced some game-changing talents.
An admirer of the Navy SEALs, HC Robert Saleh talked this offseason about flight or fight not kicking in until you've achieved 40% of what you're capable of. With 8 games or 47% of their schedule remaining, the theme will continue to be 60% at 1JD. What are these Jets capable of? All five of their road games are against teams with winning records while their three home dates will be against clubs who've combined to go 2-10 on the road.
"We're excited with where we're at, but we know there's a lot of work that needs to be done," said QB Zach Wilson. "So, I think because of where we're at, guys are taking this bye week very seriously, as far as understanding where we need to be when we come back, the improvements we still need to make, and how we can just keep this thing going."