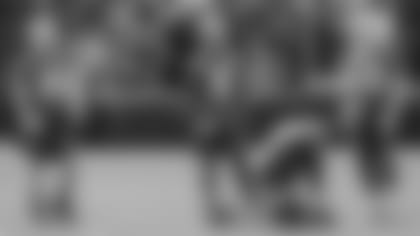 The Jets' three quarterbacks visited with reporters today before the first practice of the team's mandatory minicamp. They all fielded multiple questions, but a few of their answers, and the accompanying attitudes, stood out and gave a snapshot of where each man is at this point in the offseason, on the way to training camp and the regular season.
Josh McCown: Always Chasing Consistency
McCown expressed some ideas about what he wants to improve on from the previous season, even if, as the Jets' first-year starter for the first 13 games, he was enjoying one of the best statistical seasons of his 15-year NFL career before he got hurt:
"We're always chasing consistency, with just how we play, and to always maintain a certain level at all times. I think that goes to your ability to sustain focus and just, no matter what happens, be able to recapture the momentum you had and get back going again and keep stacking wins.
"I think in that regard, that's always a focus — get completions, stack wins, build momentum. And if there's a sudden change in that, to have the cognitive flexibility to be able to bounce back and get back on that train. So that's critical and something I think always as a quarterback you're wanting to improve on."
Teddy Bridgewater: Fighter and Dreamer
Bridgewater by all accounts is having a strong offseason coming back from his devastating knee injury in the summer of 2016. Steve Serby of the New York Post, arguably the best interviewer on the Jets beat, asked Teddy why he was in tears on the Vikings sideline late last season and elicited this telling response:
"This game means a lot to me. I've been playing football since I was 5 years old. It brought tears to my eyes because it showed me you're never out of it, you're never out of the fight. There were dark days throughout my rehab process. When you're rehabbing, the light seems so far at the end of the tunnel. But to be able to see that light and make it to the light. which is being active and standing on that sideline with my gear on, it kind of hit me a little.
"I joked around with my agent, my adviser, and told them I'm a tough guy, I won't cry, but reality set in and it was truly a blessing to be back out there and continue to live your dream."
Sam Darnold: Minimizing the Mistakes
Head coach Todd Bowles and McCown both have mentioned Darnold's penchant for not making the same mistake twice. The Jets' third pick of the draft was asked about that personality trait that has enabled him to make progress every day as a new NFL signalcaller:
"Yeah, I mean, it's huge, especially as a young dude coming in here and wanting to learn right away. That's part of the whole learning process is, when I do make a mistake, which is going to happen whether I like it or not, it's going to continue to happen throughout my career, so limiting those mistakes and understanding how I can correct them and try not to make the same mistake again, I think that's huge for any position.
"So I'm just coming in here and, when I see that the flat zone defender is getting over the over route, just be able to check it down to the back, that's a learning experience and something that I'm growing from."