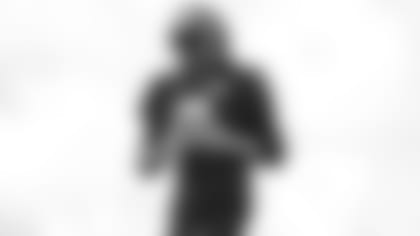 Aaron Rodgers is a dreamer who's dreaming big in the big city. The new Jets quarterback, one of the best players in NFL history, acquired in a trade from Green Bay on April 26, has envisioned leading the Green & White to a championship.
"I visualize that all the time," he said less than two weeks before the Jets' home opener against the Bills. "That's part of it. Training in your mind and being intentional with your words about the manifestation of those thoughts, goals and dreams into reality. First, you have to have that belief, so I believe strongly in that. That's why we talk about it and don't shy away from it."
Rodgers was talking about a championship the first time he entered the team's facility at 1 Jets Drive.
"I grew up watching old VHS tapes of the Super Bowls, so obviously I know about 'The Guarantee' and Broadway Joe [Namath]," he said. "I noticed walking in this morning that the Super Bowl III trophy is looking a little lonely."
Entering a darkness retreat in Oregon this offseason for a body and mind reset, Rodgers was thinking 90 percent retirement and 10 percent playing. But on March 15, he expressed his fire to still play in the NFL and his intention was to play in New York.
After the blockbuster deal between the Packers and the Jets was consummated, Rodgers was a participant in the team's voluntary offseason workouts, and he treasured his first summer with his new team and new organization.
'Above and Beyond'
"This has felt like waking up inside of a dream, this whole experience," he said. "A beautiful dream. You have a great dream, and you wake up and just want to get back into that, but you can't quite. I have woken up inside of that dream and it has been really special. There are a lot of times where I am like, this is really my life, how cool is this?"
The Jets have praised Rodgers for his authenticity, his ability to lead while connecting with everyone he meets.
"He is so deliberate and thoughtful in his words and the way he communicates," head coach Robert Saleh said. "He's been above and beyond what has been advertised."
Former Packers wideout Randall Cobb followed Rodgers to the Jets in free agency after catching passes from the future Hall of Famer in Green Bay from 2011-18 and in 2021-22.
"He's one of the most special individuals I've been around," Cobb said. "Very caring, very knowledgeable, puts in the time and effort to learn things he doesn't know about. When people tell him something, he asks why."
A four-time NFL MVP who has the best TD-to-INT ratio (475-to-105) of anyone who's ever played, Rodgers is inquisitive and intentional. After 18 NFL seasons, he will turn 40 in December and has embraced his new relationships with players almost half his age.
Motivation ... and Inspiration
"The younger generation spends a lot of time on their phone and not as much time actually interacting with people, so you have to be a little more intentional at times with starting conversations up," he said. "That's part of the role of leadership, part of the role of being the old guy in the room, and I love that. I love getting to know these guys and where they're from and what makes them tick because that's how you understand to push those buttons in the right way to inspire guys.
"Motivation, I've always felt, comes from within. You either have self-motivation or you don't. But inspiration can come from a lot of different places around us. As teammates, we can inspire guys by being intentional with them, letting them know you care about them and listening."
The kid who grew up in Chico, CA, and called Green Bay his fall home from 2005-2022 bonded with his new teammates throughout the offseason. He dined at Carbone with Sauce Gardner prior to a Knicks playoff game, attended the Tonys with C.J. Uzomah, and most recently was out with a large contingent for a showing of MJ the Musical. Rodgers' stage, though, is the field, and he is a master conductor who is adept at improvisation.
"When I'm watching the film, there are these throws that are just unbelievable, unreal, tight-window throws, accuracy," general manager Joe Douglas said. "The compact, quick delivery, balls just rifle out of his hands, decision-making. I've said it before, but it's surreal."
'How Cool Is My Life Now?'
Expectations are high for Rodgers and the Jets. He sees the potential for a top-five defense and an explosive offense that must excel in the red zone and on third down, Rodgers is surrounded by game-changing talent at the skill positions, including WR Garrett Wilson and RBs Dalvin Cook and Breece Hall.
"Games are won and lost with situational football and turnover margin, which over my career we have always been good in turnover margin," he said. "And this defense has a chance to get those tips and overthrows and also tackle well and punch the football. We're going to need turnovers. We're going to need some short fields and momentum swings like that. Then we're going to need to take care of the ball and be really good in situations. When we do those things, we're going to be in every single game."
Although Rodgers is a dreamer, he has a very practical mindset. He says the goals for the Jets are "legitimately attainable" but adds the group will have to handle the adversity that comes both with learning how to win and dealing with difficult moments. For a man who often closes his eyes to find direction, he only has to look around to know he made the right decision. His 2023 journey begins Monday against the Bills, and he hopes it ends in Paradise (NV) on Feb. 11, when Super Bowl LVIII is played at Allegiant Stadium.
"You hit that spot where you can see the city and you think, how cool is my life now? So I just really try to keep that perspective every day," Rodgers said. "And it's been easy, because one thing has happened almost every single day that just reminds me that I am in the right place."
Take a look through photos of QB Aaron Rodgers during his first training camp as a Jet.