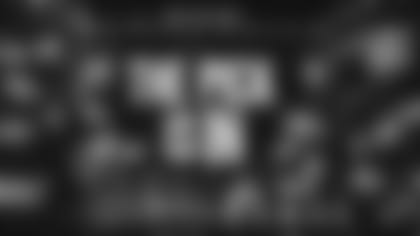 January
1/18: East-West Shrine Bowl, Tropicana Field, St. Petersburg, FL.
1/25: Senior Bowl, Ladd-Peebles Stadium, Mobile, AL.
1/26: NFL Pro Bowl, Camping World Stadium, Orlando, FL.
February
2/2: Super Bowl LIV, Hard Rock Stadium, Miami, FL.
2/24-3/2: NFL Scouting Combine, Lucas Oil Stadium, Indianapolis, IN.
2/25: First day for clubs to designate Franchise or Transition Players.
March
3/10: Prior to 4:00 p.m., New York time, deadline for clubs to designate Franchise or Transition Players.
3/16-18: Clubs are permitted to contact, and enter into contract negotiations with, the certified agents of players who will become Unrestricted Free Agents upon the expiration of their 2019 player contracts at 4:00 p.m., New York time, on March 18.
3/18: The 2020 league year and free agency period begin at 4:00 p.m., New York time.
3/29-4/1: Annual League Meeting, Palm Beach, FL.
April
4/17: Deadline for Restricted Free Agents to sign offer sheets.
4/20: Clubs with returning head coaches may begin offseason workout programs.
4/23-25: 2020 NFL Draft, Las Vegas, NV.
May
5/1-4: Clubs may elect to hold their one three-day post-Draft rookie minicamp from Friday through Sunday or Saturday through Monday.
5/11: Rookie Football Development Programs begin.
5/19-20: Spring League Meeting, Marina Del Ray, CA.
June
6/1: Deadline for prior club to send "June 1 Tender" to its unsigned Restricted Free Agents who received a qualifying offer for a right of first refusal only in order for such player to be subject to the CBA's "June 15 Tender" provision.
6/15: Deadline for club to withdraw qualifying offer to Restricted Free Agents and still retain exclusive negotiating rights by substituting "June 15 Tender" of one-year contract at 110 percent of the player's prior-year Paragraph 5 Salary (with all other terms of his prior-year contract carried forward unchanged).
Late June: Rookie Transition Program to be held at individual clubs.
July
7/15: At 4:00 p.m. ET, deadline for any club that designated a Franchise Player to sign such player to a multi-year contract or extension. After this date, the player may sign only a one-year contract with his prior club for the 2020 season, and such contract cannot be extended until after the club's last regular season game.
Mid-July: Training Camp.
August
8/6: Hall of Fame Game, Canton, OH.
8/6-9: Hall of Fame Weekend, Canton, OH.
September
9/5: Prior to 4:00 p.m., New York time, clubs must reduce rosters to a maximum of 53 players on the Active/Inactive List.
9/10, 13-14: Regular season Week 1.
Dates for Minicamp, OTAs and Training Camp will be announced at a later date.