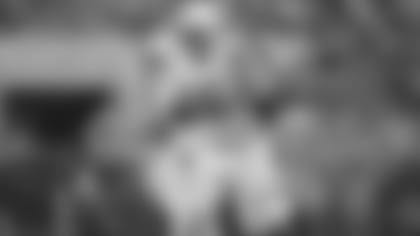 After posting a 7-9 record last season, the Jets will have seven games against 2019 playoff teams and the 2020 schedule strength is .533. With training camp on the horizon and September not too far off in the distance, NewYorkJets.com is examining each of the Green & White's matchups. We continue our series with Colts.com writer Andrew Walker as the Jets will travel Indianapolis in Week 3.
The Headline
In the offseason's QB carousel, eight-time Pro Bowl signal-caller Philip Rivers decided to head to America's Heartland after 16 seasons with the Chargers. Last season, the 38-year-old finished fourth in the NFL with 4,615 passing yards and threw for 23 touchdowns and 20 interceptions. Rivers will take over for Jacoby Brissett, who went 7-8 in 2019 and threw for 2,942 yards, 18 touchdowns and 6 interceptions while completing 60% of his passes.
"The big play was missing," Colts.com writer Andrew Walker said. "The Colts are going to be really good at running the ball, that's their bread and butter with Quenton Nelson and that offensive line. That's the way Frank Reich likes to go. They needed a little more oomf in the passing game and Jacoby Brissett can do it, but they needed a little more consistency and it was a unique opportunity with Philip Rivers where you get a guy who played under Frank Reich and offensive coordinator Nick Sirianni with the Chargers in San Diego."
What's Changed
Colts general manager Chris Ballard traded the No. 13 overall pick to the 49ers in exchange for Pro Bowl DT DeForest Buckner, who totaled 62 tackles, 9 tackles for loss, 7.5 sacks and 14 quarterback hits for San Francisco's No. 2 defense in 2019. Buckner (6'7", 300) has missed one game in four seasons and has totaled 263 tackles, 38 TFLs, 28.5 sacks and 74 QB hits.
"In this 4-3 defense that the Colts run, you have to have a dominant three technique, a guy up front that collapses pockets, takes on double teams in the run game and makes plays," Walker said. "On the field, he's a guy who collapses pockets, a guy that takes advantage of every little thing that you're going to throw at him and makes everyone around him better. … You want more consistency as a group and DeForest Buckner alone brings that credibility and that consistency and that'll help everyone else around him."
Matchups to Watch
The most intriguing matchup comes in the trenches. The Colts O-line, led by Nelson, is considered one of the best groups in the NFL and the Jets D-line finished No. 2 in the NFL last season against the rush.
"I think it's one of the top units in the NFL just in general," Walker said. "If you're talking run blocking, pass protecting, I think this Colts offensive line does it all."
On offense, QB Sam Darnold could look to take advantage of the Colts secondary that ranked No. 23 against the pass last season, allowing 248 yards per game.
"It's the back end that has a few questions," Walker said. "It's not like they don't have players there. They have Kenny Moore, who is one of the better slot cornerbacks in the NFL. You have Malik Hooker, who was a first-round pick. You have pieces there, but you just have to see them play a little more consistently. I wouldn't be surprised at all if Sam Darnold comes in Week 3 and is doing more of a quick-strike thing with the guys on the outside to try and make the Colts cornerbacks and safeties make plays."
Why It's Important
The Colts are the first team the Jets play that didn't make the playoffs last season, but pose a tough test, especially on the road. Depending on the results from Weeks 1 and 2, the Jets could enter this matchup in desperate need of a win. This game kicks off a four-game stretch of non-playoff teams in 2019 and it precedes a short week as the Jets will host the Denver Broncos on Thursday Night Football in Week 4.