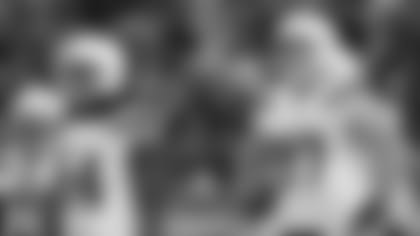 After posting a 7-9 record last season, the Jets will have seven games against 2019 playoff teams and the 2020 schedule strength is .533. With training camp on the horizon and September not too far off in the distance, NewYorkJets.com is examining each of the Green & White's matchups next season. We continue our series with Chargers team reporters Haley Elwood and Chris Hayre as the Jets will travel to Los Angeles in Week 6.
The Headline
After a wonderful 16-year run with the Chargers, Philip Rivers and the Bolts decided to mutually part ways in February. The Jets will see Rivers, who is now the Colts starter in Week 3 in Indianapolis, and then his replacement at SoFi Stadium in Inglewood, CA three weeks later. Rivers led the Chargers to the postseason six times, but it will be up to Tyrod Taylor and perhaps Justin Herbert to get Anthony Lynn's club back to the playoffs.
"They have complete faith in Tyrod Taylor," Elwood said of the soon-to-be 31-year-old veteran who is 23-21-1 as an NFL starter. "He's a guy who obviously has familiarity with Chargers head coach Anthony Lynn and you guys obviously know him well from the time he spent in the AFC East. I think personally, given this new environment we are all in, it's extremely helpful to have that veteran presence. Tyrod's been in this offense for a year. You obviously draft Justin Herbert very high to be the quarterback essentially for the future, but given this virtual offseason that we've been in and given the uncertainty of sort of potentially what's to come, I think it bodes well to have that veteran like Tyrod Taylor and not to have put all your eggs in a rookie's basket at this point."
What's Changed
The Chargers inked a pair of veteran free agents in CB Chris Harris Jr. and DT Linval Joseph and GM Tom Telesco also went to work on the right side of his offensive line with the signing of T Bryan Bulaga and the trade acquisition of former Panthers G Trai Turner. And while the selection of Herbert No. 6 overall garnered most of the attention, the Chargers were thrilled to move back in the latter half of Round 1 and take athletic Oklahoma LB Kenneth Murray.
"Coach Lynn said he had a man crush on Kenneth Murray, he said they had an amazing interview at the Combine and he made it a point to talk to Tom and get back into the first round to get Kenneth," Hayre said of Murray, who had 335 tackles and 37 stops for loss for the Sooners. "He's one of those players that down the line, he's going to be the leader of your defense. Right now, he has the capability of kind of spearheading that linebacking group."
Matchups to Watch
Edge rushers Joey Bosa (11.5) and Melvin Ingram (7.0) combined for 18.5 sacks last season and will present a formidable challenge for Mekhi Becton, George Fant and Chuma Edoga. Can the Jets get Le'Veon Bell on track against an LA defense that yielded 4.2 yards per carry in 2019 but has high hopes for young 'backers Murray and Drue Tranquill?
On the other side of the ball, the Chargers offense runs through RB Austin Ekeler. He rushed for 557 yards in '19 but had 92 receptions and nearly 1,000 (993) receiving yards, totaling 11 touchdowns. This figures to be a big game for Jets safeties Jamal Adams and Marcus Maye because they can help on Ekeler and will be asked to handle TE Hunter Henry. Taylor is mobile, but he's risk averse and will hold onto the ball in the pocket and there will be opportunities to get to him.
Why It's Important
If the Jets can hold serve at home in Weeks 5 against the Broncos and 6 against the Cardinals, they would head west in search of a three-game winning streak. This is the first long roadie for a Green & White club that could log 21,100 round-trip miles, which would be the second-most road miles in franchise history, in 2020. And if you are a fan of great safety play, get your popcorn out for Adams and Derwin James.
"When he left the lineup, the defense was built around Derwin and the ability for Derwin to do so many different things on the field. He's almost like a position-less player, so you add that plus the leadership and the energy and the enthusiasm that he brings to the defense, a healthy Derwin James means this defense is going to be humming on all cylinders," Hayre said of James, who was limited to five games because of a foot injury he suffered in training camp. "You talk about Casey Hayward and Chris Harris Jr., these are guys who can take the football away too. The rush and cover, they work together with Bosa and Ingram. Derwin James was the missing link last year."