Jets head coach Todd Bowles held his year-end news conference with reporters at the Atlantic Health Training Center this afternoon. Here are a dozen takeaway quotes from Bowles' presser:
1. What Happened in 2016?"We made a lot of mistakes. Coaches, players, plays, all of the above. We fought hard, but we didn't fight smart. We have to do a better job coaching it better, they have to do a better job playing. Accountability for everyone. I just thought once we got through 1-4, 1-5, we kind of snowballed from there."
2. Was Locker Room Chemistry an Issue?"That happens in locker rooms all the time. I don't think that was a problem as far as us winning and losing and playing hard. Arguments are going to happen, you just deal with them right there and put them in their place. To say that that was a problem for us winning and losing, that would be a bad excuse."
3. Will Chan Gailey Coordinate the Offense in '17?"We'll discuss everything as we go forward. I think Chan's a hell of a coach. That's why I hired him in the first place. But going forward, me and him, we will sit down and have a private discussion, and we'll go from there."
4. What Is the Jets' QB Situation?"Right now, with the season just ended, we're right where we are. We understand that. We know Fitz [Ryan Fitzpatrick's contract] is up, we know Geno [Smith] is up. We have a lot of work to do."
5. Why No Christian Hackenberg This Season?"He was the fourth quarterback. A lot of guys need a chance to play that don't play right away, or don't play the first year. He'll play when his time is right."
6. What Did Todd and Darrelle Talk About?"I'm not willing to share much. We had a private conversation. Darrelle and I have a great relationship. We'll continue to talk about it upstairs and within our organization and Darrelle and I understood that as well and we'll go from there.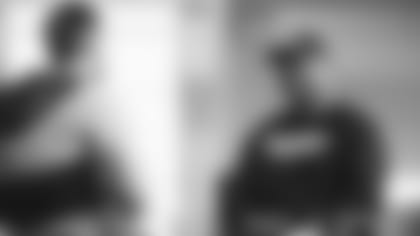 7. What Happened to Brandon Marshall?"Statistically ... compared to last year, compared to his previous years, he didn't have a good year. He played banged up a lot, but he dropped some balls, he got double-covered a lot, and we just didn't have the production we had last year."
8. What Does Bowles Need to Work On?"I thought I did a better job this year than last year. I think I can get better at a lot of things, but we have to get into a lot of those situations to do so. I had the one gaffe this year where we should have gone for two points and I didn't go for that, which I was pretty much screaming and yelling. There were some other things I could get better there, as far as keeping my composure and making sure that I'm aware of everything."
9. What's in Store for Nick Mangold?"Nick is a part of our team right now. We have to see how his injury heals. I know he's played a long time and I have the greatest respect in the world for Nick. We'll see how he feels going forward."
10. More Bilal in 2017?"It's possible. He did a lot the last four weeks to show me he can be that kind of back. Going forward, getting him in the game and doing things is essential as far as moving forward with him."
11. Does Todd Need the Playoffs to Return in '18?"I don't worry about returning. I just worry about the next year. I'm trying to win games the next year and go from there. 2018 doesn't matter to me."
12. Does His Roster Need to Get Younger?"It can't get much younger. We're pretty young right now. We've got some vets that still can play and some that are hurt. We're getting younger. Obviously, we're younger. I don't want to get younger. I just want to get better."