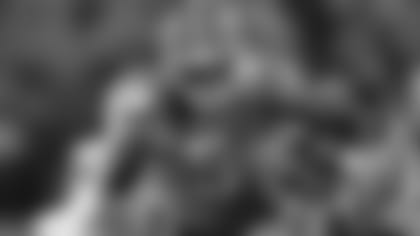 The Jets addressed the tackle position on Thursday night by drafting Mekhi Becton in the first round, No. 11 overall. GM Joe Douglas enters Day 2 (Rounds 2 and 3) of the draft with three selections — Nos. 48, 68 and 79.
Here are 10 players who could be on the board when the Jets make their selection, with quick analyses from The Athletic's Dane Brugler, Bleacher Report's Matt Miller, ESPN's Jim Nagy and Anthony Becht.
Wide Receiver
Tee Higgins, Clemson (6-4, 216) — A two-year starter at Clemson, Higgins totaled 188 catches for 2,103 yards and 25 TDs the past two seasons, leading the Tigers with 1,167 yards and 13 scores in 2019. He's tied with DeAndre Hopkins and Sammy Watkins for most TD catches in school history with 27.
Brugler: "Tee Higgins is more of your basketball player in football pads. He's a good-size athlete. There's a little more finesse than you want, you wish he had a little more play strength to be able to out-muscle corners and break tackles, but his length, his ability to highpoint the football, that's what you're getting in Tee Higgins."
Denzel Mims, Baylor (6-2, 207) — Mims, three-year starter, led the Bears in receiving two of the last three seasons and became the only player in college football to score at least 8 receiving TDs in each of the last three seasons. The first-team All-Big 12 selection totaled 186 recs, 2,925 yards and 18 TDs in 49 games (36 starts).
Becht: "He's long, big, strong, physical, extreme speed and can win in the red zone. Uncoverable on slants and fades — he did it better than everybody in college football and he was utilized that way. He can catch a slant at the 20 and take it 80 yards."
Michael Pittman Jr., USC (6-4, 223) — The son of former Bucs RB Michael Pittman, Pittman Jr. started three seasons for the Trojans. He had 1,275 yards and 11 TDs on 101 receptions this past season, earning All-Pac-12 honors, and was voted team MVP.
Miller: "He's not the fastest guy, but in some ways reminds me of Michael Thomas with how physical he is in his route running that he creates separation just by being physical and being precise with his routes. … [He] is going to box out and be physical on breaking routes, slants. He's going to post up in the red zone, and we've seen him have production against NFL-caliber corners."
Laviska Shenault, Colorado (6-0, 227) — A two-year starter for the Buffaloes, Shenault is a physical receiver -- 58.1% of his 1,943 career receiving yards came after contact. He led the FBS with 9.6 receptions per game (86) in 2018. Shenault underwent core-muscle surgery in March.
Brugler: "He's at his best with the ball in his hands. He can make defenders miss, he accelerates really well, so he throws off pursuit angles in coverage. He has the physicality where he can break tackles, but that's kind of the double-edged sword with him. That physicality as a ballcarrier, that also leads to more punishment on his body."
Cornerback
Cameron Dantzler, Mississippi State (6-2, 188) — Dantzler led the Bulldogs in pass defenses (PDs) in 2018 and 2019 (21 total) and recorded two INTs in each season.
Brugler: "You want him to not make so much contact, but he's a very quick-footed athlete, has smooth hips. … Even though he's not the biggest guy, he's not afraid to hit you as a tackler. I think he has the reactive athleticism where he can play downfield and he projects as an outside starter in the NFL, he just needs to fine-tune some of those issues."
Trevon Diggs, Alabama (6-1, 205) — The younger brother of Bills WR Stefon Diggs, Trevon was a four-star recruit and the No. 1 wideout in Maryland. He was a two-way player at first for the Crimson Tide but moved to defense full time, totaling 57 tackles, 18 PDs and 4 INTs in 2018 and '19.
Brugler: "He gets his head turned to the find the football. His hand-eye coordination allows him to attack the football at the highest point and his offensive background gives him that natural awareness of what the offense is trying to do. Not every corner shows that ability on defense. … If he cleans up his technique, the discipline issues, he can make an impact, man-cover player in the NFL."
Amik Robertson, Louisiana Tech (5-8, 187) — Robertson chose LA Tech despite offers from LSU, Oklahoma State and Texas. He started from Day 1, posting 183 TKL, 23 TFLs (tackles for loss), 4 sacks, 2 FFs, 48 PDs and 14 INTs in 38 starts.
Brugler: "He might be the poster prospect for why you don't judge a book by its cover. … The ball skills, the instincts are elite. … His coaches speak really highly of his football character — they call him an igniter on the field and off the field."
Edge Rusher
Bradlee Anae, Utah (6-3, 257) — Anae led the team with 7 sacks in 2017, led the Pac-12 with 8 sacks in 2018 and finished second in the conference with 13 sacks this past season. The Hawaii native totaled 135 TKLs, 41.5 TFLs, 30 sacks and 6 FFs in 47 games (38 starts) and was a consensus All-American in 2019.
Brugler: "He wins with his first step, he wins with his hands, he's got a lot of savvy to him. There's a lot to like about him as an edge rusher. … Talking to Pac-12 blockers, you ask them who was the most difficult matchup, more than not they're going to mention Bradlee Anae because he's just a menace off the edge."
Julian Okwara, Notre Dame (6-4, 252) — Okwara, a team captain in 2019, totaled 4 sacks, 6 TFLs and 2 FFs before breaking his leg. He totaled 77 TKLs, 23 TFLs, 14.5 sacks, 4 FFs and 2 INTs in 45 games (21 starts) for the Fighting Irish.
Brugler: "This is a guy who has that first-step explosion, he can work past the corner, back inside. He's very nimble, very twitchy as an athlete. He needs to expand his pass-rush repertoire in terms of what he can do, the number of ways he can beat offensive tackles."
Josh Uche, Michigan (6-1, 245) — A one-year starter at Michigan, Uche led the Wolverines with 8.5 sacks this past season, earning second-team All-Big Ten honors, and was named Michigan's defensive player of the year. He totaled 50 TKL, 15.5 sacks and 19.5 TFLs in 2018 and '19.
Nagy: "He's got power. He's got length. He's not the tallest guy, but he's got almost 34-inch arms and he's very powerful. He's a really good athlete. … You're not talking about just a rush guy, you can play him off the ball and he can track back some tight ends down the field. I think he's one of the most intriguing guys in this draft."