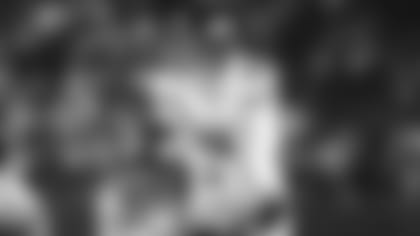 In the leadup to the Jets' final game of the 2021 NFL regular season, head coach Robert Saleh said he hoped that QB Zach Wilson -- a self-professed film geek -- would take some time away from football to recharge his batteries.
On Monday, before the players dispersed for the offseason, Wilson conceded Saleh's point ... to a point.
"Yeah, I need to find that balance and I feel like the approach I'm going to take is going to be what's needed," Wilson told reporters the day after the Green & White completed a 4-13 season with their rookie QB and rookie coach. "I'm going to go home [to Utah], and I feel like I need to get into strength training and just getting my body back in shape right from the beginning, but I don't really count that as full diving into the offseason.
"That's just something that should just kind of be done every day. I'm not going to go out and speed train on Day 1. I got to let my body heal and kind of calm down and my goal is to also just kind of throw the ball a couple times a week, at least early on. To just keep the arm in shape, even if it's just catching in the backyard at first for a little bit, just to keep everything feeling good and as time goes on, I'll progressively make that more and more and then we'll find some time with some other guys and start pushing those workouts even harder. I think it's just kind of a gradual build into just getting back in shape."
It probably would be unfair, though not uncomplimentary to call Wilson a workaholic. A dedicated, young professional is more like it.
"Not satisfied with where we ended up in the standings, but I'm proud of this group of guys for continuing to fight every single snap week-in and week-out," he said. "That's something we can build on, and that's what we plan to do. Couple days off and then back in the lab."
He added that he plans to spend quality time in the coming months working out with teammates when possible.
"We'll figure something out," Wilson said. "Even as far as just communication, spending time together, keeping up with each other, I think it all just goes really far when you have a good relationship."
From his comments to reporters on Monday, it appears that Wilson's first order of business once back in Utah will be to work on his strength and physical fitness. Not to mention spending time strengthening his right knee, which sustained a PCL strain in a game against New England and cost him four games while he rehabbed.
"I just think, overall, I can hold more weight on my body [he played at 214 pounds this season] and still try and keep some of that athleticism and ability to just take some hits," he said. "A big thing for me is I take the offseason lifting stuff, as far as wanting to be strong and all that, very seriously. So, when the season comes around and you kind of lose a bunch of that, it's unfortunate. So, I want to get up there and try and maintain it. I know it will just help in the long run with preventing injury and all that sort of things, as well."
Wilson, and his coaches, acknowledged that he gained valuable perspective during his time out injured. Now the goal is to build up the area around his knee in a bid to forestall any future issues.
"I mean, it's going to be sore, just from different things and so, how can I keep doing speed training to get it just back in shape and feel 100 percent normal to where even the soreness is just gone," he said. "It's always something you can progressively still work on. Even my shoulder from two years ago, that I had saved over 100 percent fixed. There is still maintenance I got to do there and just because it's something that you've had an injury to. So, it's a very similar thing and I'm just going to work with different people to just make sure I can get that strength back, but it's really overall the whole body that I got to work on."
After 13 games of on-the-job training, Wilson has quickly focused his attention on "getting better every day," with a particular emphasis on enhancing his leadership and making it clear that he's a team-first guy.
"I have 100 percent confidence in myself that I can play in this league and that I can play well and that I can help lead this team to do some special things and that's got to be the focus," he said. "I do think that's one area that can always improve is just that leadership aspect, how can I bring guys along and how can I just elevate the guys around me and show them how much I care about them, how much they care about me, and as a unit, we can just be so connected in every way. That's something that I'm going to just keep working on this offseason is how can I just keep bringing everyone together and just be able to keep improving as a team."