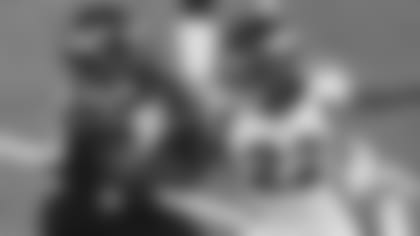 Sam Darnold had his favorite receiver -- Jamison Crowder -- back on the field against the Denver Broncos on Thursday night. Not to be overlooked was the strong effort turned in by WR Jeff Smith, who was moved from injured reserve to the active roster before the game, seeing action in his first game of the season.
Both the quarterback and the wide receivers made the most of it, even though the ultimate result was less than satisfying for either.
"He made some incredible plays out there," Darnold said after the game, referring to Crowder. "We're lucky to have him. He made some really good plays."
Darnold was being modest, on Crowder's behalf. After missing two games (losses to San Francisco and Indianapolis) with a hamstring injury, Crowder collected 7 passes for 104 yards, the eighth time in his NFL career that he has eclipsed 100 yards in a game. His longest gain went for 35 yards and Crowder had a dazzling 14.9 yards per catch.
Crowder picked up a first down in the first quarter, collaborating with Darnold for 9 yards. On the Jets' drive to close out the first half, Crowder caught a 10-yard pass on third down on a drive that led to a Sam Ficken field goal.
Coming back from the hamstring injury Crowder said: "I felt good. I felt good out there."
Even though Darnold and Jets were adept at moving the ball, the team again failed to score in the red zone, going 0 for 3 and settling all too often for 3 points.
"We got to find something to get the points, to get it in the end zone," Crowder said. "We can move the ball, we were getting down in the strike zone, getting in the area we need to be. But instead of a field goal, we need to come out with 6 points."
For Smith, who played in his second NFL game, it was a notable evening as he snagged 7 passes for 81 yards, with a long grab of 21 yards.
"I felt good coming off IR, I haven't really practiced," Smith said. "I felt good there are some things I need to clean up. It's never fun to lose, the main focus is to go in tomorrow and watch the film, and just keep on pushing."
On the Jets' first drive of the game, on which the team took its first lead of the season, the fleet-footed Smith caught an 18-yard ball from Darnold for a first down. Later in the quarter, with Darnold out after being sacked and leaving with a sprained shoulder, Smith caught an 11-yard pass from backup Joe Flacco.
On the first drive of the third quarter, Smith forced Denver's Michael Ojemudia to commit a pass interference call, yielding a 38-yard pickup for the Jets that led to another Ficken field goal. Smith had a strong fourth quarter as well, picking up first downs on a 7-yard toss from Darnold to the Broncos' 29 and then, on a subsequent drive, hauling in an 11-yard effort to Denver's 28 on a drive that ended with Ficken's final field goal.