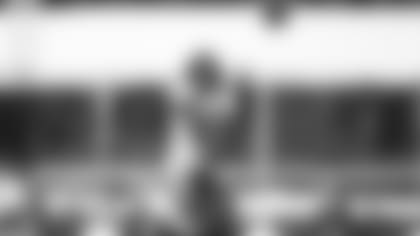 Four years ago, when Braxton Berrios entered the league with New England, he spent his first NFL training camp fighting tooth and nail to make the roster. That attitude hasn't changed despite Berrios' established status on the young Jets.
At training camp, Berrios is in constant motion from warm-up stretches to receiver drills to returner work and into team periods. His spot on the Green & White this season is not in question, and yet is he always searching for more ways to help the team.
"I found it extremely valuable to be able to know all the positions and to do all these different things because you know football happens and injuries happen," he said. "Games are tough and in this football sport the more you can do, I think the more valuable you become the better. I want my teammates out there to trust me and have that faith in whatever I am tasked to do."
Berrios entered the league as a sixth-round selection and spent his first season with New England on injured reserve and used the off time to fine-tune his returner and receiver skills.
After the Patriots waived him during final cuts in 2019, the Jets claimed Berrios his career trajectory skyrocketed.
A long way removed from surviving on the bubble of final cuts now, Berrios was selected as the 2021 first-team All-Pro returner and named a Pro Bowl alternate last season. He finished first in the league with a 30.4 kickoff return average on 28 returns, which included a 102-yard kickoff return touchdown vs. Jacksonville, the fourth-longest by a Jet since 2000. He finished second among all returners with at least 15 attempts with a 13.4-yard punt return average.
If double-damage in the return game was not enough, Berrios increased his versatility on offense last season, adding rushing skills to his receiving abilities. He set single-season career bests in receptions, 46, and receiving yards, 431, while also scoring two touchdowns on the ground.
Twice at practice Friday, Berrios caught passes near or behind the line of scrimmage and showed his open-field abilities, evading and slipping through tackles to pick up extra YAC.
"To be honest. I don't ever think you can be too good at one thing," Berrios said. "So, it's been an all-around approach, trying to learn from everybody."
HC Robert Saleh loves that Berrios has a knack for just about every position on the field. In 2022, Berrios won't have to worry about making the team, but instead all the ways Saleh will use him.
"He is a bulldog," Saleh said. "He works his absolute tail off, he knows all spots on the offense, he can help people get lined up, he is very versatile, he is sure-handed in the return game, just love everything about him and the way he goes about his business, and I am just thankful that he plays here."
See the Green & White on the field in full pads during week two at training camp.