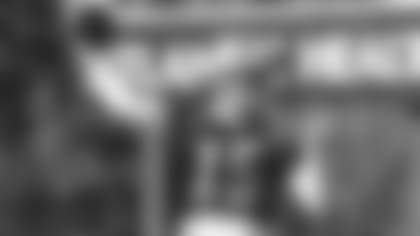 Rookie quarterback Sam Darnold will not make his 10th consecutive start when the Jets play host to the Bills Sunday at MetLife Stadium. Todd Bowles told reporters Thursday that Darnold, who has missed both workouts this week with a strained foot, will make way for veteran Josh McCown. But Darnold hasn't been completely ruled out yet.
"I am ready to rule him out as a starter for this week," Bowles said. "I won't rule him out yet for the game."
If Darnold isn't active, then the Jets plan to promote Davis Webb from the practice squad to the active roster.
"If he can't go at all, obviously we have plans in place to bring up Davis," Bowles said. "So we'll just play that by ear."
It has been almost a calendar year since McCown last played in regular season action. He broke his left hand in a Week 13 loss to the Denver Broncos last season, ending what had been a career year. McCown set season career-highs with 2,926 yards and 18 touchdowns while completing 67.3% of his passes, which ranked third in the NFL, at the time he went down.
"I think that's the part of being in professional football is the expectation is to go out and play at a high level," McCown said this week when asked if he thought he might be rusty. "That can't be allowed to be an excuse and it won't be. I'll go out and expect to play to my standard and to the standard of this football team and win a football game."
McCown, in his 16th professional season and second with the Jets, has led the first-team offense in practice all week. The 6'4", 218-pounder is in impeccable athletic condition and he knows the Jeremy Bates offense like the back of his hand.
"You don't get to be in this league 40-years-old and not be a professional. We understand and he understands where he is," Bowles said. "He's 40, but he has a 20-year-old mindset. He's very energetic and he's very studious, so we expect him to play well if he plays."
Whether Darnold is suited up or not, he will have the opportunity to watch McCown orchestrated an offense for the first time.
"If I'm not playing, there are a lot of things I can learn from a guy like Josh if he gets to start," Darnold said earlier this week. "Obviously, I would like to play. But if I'm not playing, I'll learn a lot from him. He's a great player and I'll go about it that way."
After McCown leads the Jets against the Bills, the team will head to its bye and Darnold will have more time to rest his foot. And when the rookie is ready to return, he will go back under center.
"Sam's our quarterback," Bowles said.
Top Images from the Practice Field on a Sun-Splashed Day at 1 Jets Drive