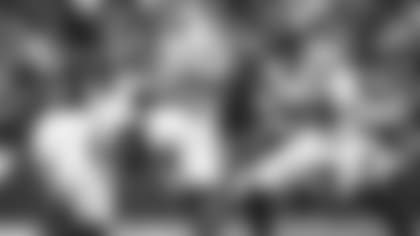 Bob Wischusen has been the radio play-by-play voice of the New York Jets for 18 years. Throughout the 2019 season, Wischusen shared his thoughts pertaining to the Green & White in a weekly column - "Wischusen's Point of View".
1. Sam Darnold
When you go 6-2 in the second half of your season, the entire roster deserves an immense amount of credit but there is an old saying in football that the coach and the quarterback always get too much blame when you lose and too much credit when you win. In this case though, when you're developing a young franchise quarterback, during any winning streak you want to focus in on how the player playing the most important position on your team is performing. For the Jets to win six of their final eight games, for Sam Darnold to throw 13 touchdowns against only four interceptions and multiple times for not putting up huge offense of numbers but coming up with that drive late in the game sometimes just to kick a field goal that can be, if not the deciding score, the score of the puts the margin just out of reach that you know you're have a win. Darnold showed in the second half of the season that he is developing a winning DNA, exactly the type of inner fortitude that is needed as a leader. All of his teammates are going to look at this guy and say we've seen him do this before, we know he can do it again. The guys in the huddle and on the sidelines have the confidence is the most important position on their team. This is critical for any franchise moving forward and it certainly seems like Darnold displayed these qualities in 2019.
2. 2019 Defense
Watching the Jets defense this year, it was really a pleasure to see Gregg Williams work and how he was able to cobble together a different defensive gameplan every week knowing that he was probably going to be without the pieces he had the previous week. That was just the way that this season went. Especially with how the Jets had constant casualties at cornerback, which might be the most important position in today's NFL. What we saw a time and time again were gameplans that involve playing a lot of zone, often times dropping seven, sometimes even eight back in coverage and still having a decent number of snaps. The Jets were still able to get good pressure on opposing team's quarterbacks. It was really a well done year strategically. They found some players on the defensive line and linebacker where they think they've got pieces that they never would've anticipated as contributors at the beginning of the season, but now could stick on this roster. There were a lot of positives to come out of what was an injury riddled season for a defense that lost most of the players they thought would be their stars at the beginning of the year and still managed to uncover diamonds in the rough as the year went on.  Kudos to Williams and kudos to all of these unsung heroes on the Jets defense for putting together an outstanding second-half.
3. Winning
Listening to Joe Douglas' season-ending press conference, I thought he struck the perfect tone. No team wants to be 7-9, no team wants to be below .500, no team wants to miss the playoffs yet again. That's the situation the Jets find themselves in. That is their reality.  Another reality is they started the season one and seven, had a catastrophic injuries, they did not have their quarterback for a month. A number of teams would have folded their tent and would have been a three- or four-win team with nothing to point towards as a positive for the future. In the second half of the season, the Jets did none of that. They went 6-2, the quarterback play improved dramatically, they overcame a lot of injuries, and they found a lot of diamonds in the rough. Young teams absolutely need to learn how to win. Was this the season the Jets wanted, of course not. At the start of the year when you pick up players like Le'Veon Bell and C.J. Mosley you are thinking you might be a playoff team. That did not happen. But, what also did not happen was this team did not quit at 1-7.  Six and two down the stretch should not be minimized and can be something that propels them into next season.