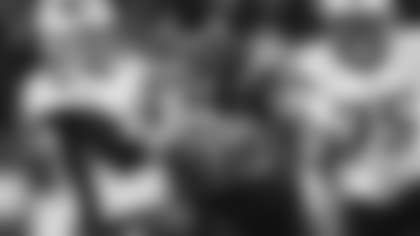 Bob Wischusen has been the radio play-by-play voice of the New York Jets for 18 years. Beginning this week and lasting all season, Bob will share thoughts pertaining to the Green & White in a weekly column - "Wischusen's Point of View".
1. QB Resiliency
Sam Darnold had a four-interception game against the Patriots on Monday night and in this world of immediate overreaction 24 hours a day, seven days a week, sports talk shows, sports radio the overreaction is almost immeasurable. It led me to go back and look at the number of quarterbacks that have not had just a four but a five interception or more game on their resume. The first dozen or so names that I picked out are quarterbacks that ended up eventually in the hall of fame, including Joe Namath, who did it multiple times. Do any of us believe that Joe Namath had anything but amnesia and wasn't able to simply put those games in his rear-view mirror knowing that this was a league he could play in and a job he could do? Darnold has to exhibit that same amnesia and I truly believe he will. If you are going to define Darnold's career off of one four interception game in his second season, when at 22 years old, he has yet to even play a full 16 game schedule in his career, you are out of your mind. Do yourself a favor, go back and look at the number of quarterbacks and the names of those quarterbacks that have had five interceptions or more games and stack those names up with the busts that are in Canton and you'll realize that this happens to quarterbacks and they have no choice but to put it behind them.
2. Positive Locker Room
I've been covering the Jets on a regular basis since 1996. In 1996 the Jets were 1-15 in the second year of Rich Kotite. So, to say I have seen my fair share of games that looked like Monday night, would be an understatement. What I've also seen in years past are locker room fractures and that's something that is preventable and can't happen. Sam Darnold had a terrible game on Monday night. The offense collectively had a terrible game on Monday night, but two-thirds of the season is still out in front of the Jets and from everything you hear at practice, in the meeting rooms, in the training room, in the locker room is that players like Le'Veon Bell and Jamal Adams are not going to allow that locker room fracture to happen with this particular team. I've never heard so many positive things said about a star player just from effort in practice, attitude, spirit on the sideline, etc. than we've heard about Bell this year. The same has obviously been said about Jamal Adams. There's a reason you draft a safety as high as the Jets took Adams and it's not just based on the play on the field but the type of person and leader that you know you're getting at that position. The Jets need those two guys to exhibit that now more than ever.
3. Leonard Williams
The Jet run defense ever since Leonard Williams has been a part of the Jets defensive line has always been very good and he has certainly been a big part of that. He's also a player that routinely shows up in all of the analytics and metrics as hurrying the quarterback, pressuring the quarterback, getting hits on the quarterback but not a player that sacks the quarterback. To see him sack Tom Brady, create a turnover and make a truly impactful play for the Jets, has to be encouraging for Gregg Williams. The Jets don't have the traditional bend the edge pass-rusher that would free up their interior guys for better matchups and one-on-ones. Williams is double-teamed on a regular basis. This is something that the Jets have to deal with by sending numbers after the quarterback and blitzing to try to get him some one-on-ones. But of course, that then exposes your defense at times on the back end. The solution for that is asking players like Leonard Williams and Quinnen Williams to beat their guy, even beat a double-team from time to time and get pressure on the quarterback with your traditional four-man rush. If that's something that can develop as the season goes on, it will free up a defensive play-caller in a multitude of ways and Gregg Williams would like nothing better than to see Leonard Williams continue to have that impact.