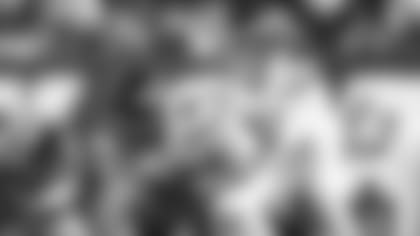 Bob Wischusen has been the radio play-by-play voice of the New York Jets for 18 years. Beginning this week and lasting all season, Bob will share thoughts pertaining to the Green & White in a weekly column - "Wischusen's Point of View".
1. Sam Darnold's Return
Working the games with Marty Lyons, who obviously played a long time in the NFL with various different quarterbacks, many times those quarterbacks were the backup quarterback, it was only natural to ask him the question on the air as a former player on Sunday. What did you sense when you were down on the sideline? What did you sense during warmups? What did you sense with players you talked to pregame about the return of Sam Darnold and what it was doing for this team? He naturally said it energizes the entire team, not just that you know he's going to go out there and play good football, he's going to execute the offense, he's going to have a greater command of what you want to do, but just having your leader back, having the player that you know gives you the best chance to win puts a bolt through the entire team, and you could see how the Jets played in all three phases of the game had a lot to do with the fact that they had their quote-unquote guy back. This team is built around Darnold, their franchise quarterback. Not only did they have a chance to win on Sunday, they expected to win and they played like they expected to win and that's because they had Darnold.
2. A Team Effort vs. Dallas
You could sense that the emotion for the Dallas game for the Jets started to build the moment that they left Philadelphia. When word got out that they had a players-only meeting earlier in the week and certain respected veterans got up and talked about how important it was that they win this game, that they reignite their season with Sam Darnold back on the field, all of the criticism that they have been getting and flip the script. You knew that they were going to come out and play with a different kind of spirit. That certainly had a lot to do with the fact that their quarterback was back. It's much easier to play inspired football when you know your team has its best player back. They absolutely played with a different kind of spirit and a different kind of inspiration on Sunday. It helped to be at home, even with as many Cowboy fans as there were at the game, the Jets fans, for the better part of that game, drowned them out and you could tell because Jamal Adams talked about it after the game. The fans had a lot to do with that victory.
3. Putting Pressure on Tom Brady
I'll be very interested to watch Gregg Williams' game plan on Monday night against Tom Brady and the Patriots. Traditionally, when any team has had success against the Patriots and traditionally, when the Jets have had success against the Patriots, they have gotten to Brady with some type of inside pass-rush, not necessarily a blitz, not necessarily even an outside pass-rush. Brady is most uncomfortable when you push the pocket and get pressure right in his face. From time to time, you have to bring some numbers after him, but there's no way that Williams is going to blitz Brady as often as he blitzed Dak Prescott. The Cowboys were without both of their starting tackles and Prescott is not nearly the quarterback that Brady is at seeing the field, seeing where the pressure is coming from and diagnosing a muddy picture. Brady is a master at realizing where you're coming from, where the gap in your defense is going to be and before the snap, having that snapshot in his brain and then taking advantage of it. So, I would expect the Jets to blitz him but blitz him with a little more discipline and count on their front four guys, hopefully their inside guys, Leonard Williams and Quinnen Williams to get some pressure on Brady without having to blitz often because if you blitz time and time again and play an overly-aggressive style against Brady, at some point, he is absolutely going to burn you. Should be a great game!