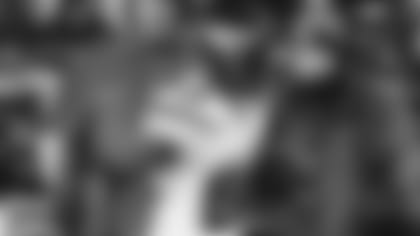 Bob Wischusen has been the radio play-by-play voice of the New York Jets for 18 years. Beginning this week and lasting all season, Bob will share thoughts pertaining to the Green & White in a weekly column - "Wischusen's Point of View".
1. The Final Two Games
Think about this Jets roster, how many veterans have been placed on injured reserve. As a result, how many young players have had an opportunity to step up and prove themselves, especially on defense, constantly rolling different players through different positions, asking players to assume a role and a responsibility that they've never had to take on their shoulders before. And each week, over and over again, trying to find a way to win. The rest of the season for players littered through this roster is going to be a job interview and the best way to put your best foot forward in that job interview and maybe have a place on this team next year is to not just play well but win these last two games against two teams that have significant playoff aspirations. For all the young players on defense, especially in the secondary, for the players on the offensive line that are going to be competing in a position group that you know the Jets will try and bolster going forward next season. All the way through this roster, there are plenty of examples of young players or players that could be on a roster bubble that want to perform well and win a couple of games here to show that they continue to belong.
2. Special Teams
We spend so much time talking about, analyzing, dissecting offense and defense, how the quarterback plays, playcalling, who should get the ball more, who is doing a good job in coverage or along the line of scrimmage on the defense, that the third portion of the game. But the portion of the game that can equally be responsible for winning or losing gets totally lost in the shuffle and that of course is special teams. The Jets have done a much better job in the second half of this season of changing field position, covering kicks, getting significant returns, not just in kick off but also in punt, and of course Sam Ficken won a game a couple of weeks ago with a field goal at the gun. There was a lot of hand ringing and rightfully so with the talent the Jets lost in special teams last year, when Jason Myers and Andre Roberts both went to the Pro Bowl and both left, you wondered if they were going to be replaceable. And while the Jets have not had the consistency in the kicking game that they had last year with Jason Myers, maybe they have found a kicker of the future in Ficken and it turns out that sometimes schematically you can affect the return game, regardless of who the returner is. It certainly seems as if the Jets have been able to do that this season. Special teams have been a very pleasant surprise in the second half and gives the Jets hope that they've got some roster depth that maybe they didn't expect to have heading towards next season, in some very important special teams areas.
3. Jamison Crowder
Of all of the free agent decisions that the Jets made last season, the one that maybe flew under the radar the most at signing but has turned out to be as consistent a contributor on either side of the ball, was the signing of Jamison Crowder. As a slot receiver, as a consistent playmaker, as a guy that just knows how to get open and become a security blanket for a young quarterback, Crowder has been very much as advertised. And for a young team, you need as many examples in the locker room, in the weight room, in the meeting room at practice as possible, of how to be a true professional, and it certainly seems that Crowder has brought that to the Jets as well. So when Adam Gase starts to look at next year's offense and what he needs to add on the offensive line, to get back a tight end, to add at different receiver spots, I have a hard time believing he is going to look at slot receiver and want any player that would be available, either not with the Jets or currently on the roster, to play that position more so than Crowder.