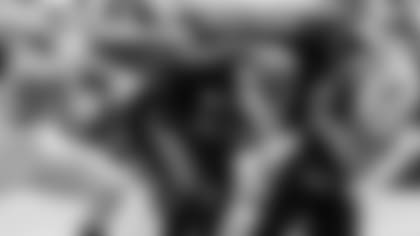 As the Jets prepare to travel to Jacksonville in Week 4, Jaguars running back Leonard Fournette's status is uncertain. Fournette, the No. 4 overall pick in the 2017 draft, tweaked his hamstring in Week 1 against the Giants and hasn't played since. Without their workhorse, the Jaguars took down the Patriots in Week 2 and then managed just six points in a Week 3 loss to the Titans.
"They've had stretches where they're better offensively when he's not in the game, which is kind of a weird thing," Jaguars.com's John Oehser said on The Official Jets Podcast. "They open up the offense a little more, they throw effectively. But for the most part, they're a better offense when he's in the game. He gives them such a better threat of running that teams really have to defend it. When he's not in the game, you don't feel as much as a sense of urgency as a defense to make sure you get him stopped."
The 6'0", 228-pound Fournette ran for 1,040 yards and nine touchdowns as a rookie while averaging 3.9 yards per carry. Last year against the Jets, the LSU product ran for 86 yards on 24 carries (3.6 average) and caught four passes for 59 yards and a touchdown.
"He's really the offense's identity even on games where he doesn't run for 100 yards," Oehser said. "They like to get physical and like to have him run you over. It gets everyone else fired up. He's sort of a calling for them and it does change when he's not in the game."
Quarterback Blake Bortles has a rather new cast of targets compared to the last time these teams met with wide receivers Keelan Cole, Dede Westbrook and Donte Moncreif and former Jets tight end Austin Seferian-Jenkins serving as the group's primary weapons. While Bortles has had an up and down career, Oehser believes the five-year veteran gets a bad rap because of the Jacksonville's 11-37 record in his first three years as a professional.
"It was so bad that he really got a bad rap as just being awful. There were people that wrote him off and said he was one of the worst quarterbacks in the NFL," he said. "Well, he's not that. He's a quarterback that can beat you. If you're covering guys in man, he can hit guys if they're open. I don't think he's one of the best 10 quarterbacks in the NFL, but he's a guy who's very savvy and very tough.
Bortles has thrown for a total of 707 yards, five touchdowns and two interceptions in three games, having brilliant and uneven moments along the way. He threw for 176 and 155 yards in Weeks 1 and 3 and carved up the Patriots for 376 yards and four touchdowns in Week 2.
"This team believes in him and primarily, he's been really good for the last 19-20 games," Oehser said. "If he hits a patch of adversity, which he did Sunday, he's been exceptionally good at putting it away and moving on. Early in his career, a bad play or bad game, things would start to snowball. … Now, he's much better at if something goes bad, they tend to have a good drive if things go bad."