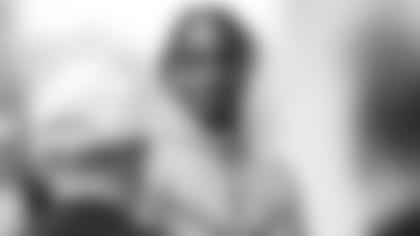 When asked about his penchant at Iowa State for forced fumbles, Will McDonald IV, the Jets' first-round selection from Iowa State, shed light on his mindset in life.
"You just don't want to go out there and do you job," he told reporters. "You kind of want to be spectacular at it, so you can make plays. You just don't want to be another body out there. Working on those things throughout all these years definitely paid off."
McDonald, the first Cyclone to be drafted in the opening round since George Amundson in 1973, didn't start playing football until his junior year of high school. Also lettering in basketball and track and field, McDonald earned a scholarship to Iowa State and appeared in 54 games from 2018-22. He tied the Big 12 career record with 34 sacks and tied Iowa State's record with 10 forced fumbles and his 42 TFL rank second. In the 2021 campaign, McDonald tied for the Big 12 lead in sacks with 11.5 and his 14 TFL ranked second in the conference.
"My sophomore year of college definitely shaped me," he said of the '21 season. "I was learning a lot of discipline and poise, just being around the right people, not being around the wrong people. I was just taking in a lot of things. Obviously, my brother passed away that same year, too. I was just taking in a lot of things. Being the first in my family to graduate from college, I was a sophomore, but I did not want to go back home empty-handed like the only one who went to college and didn't do anything with it. I think that year really shaped me especially after my brother passing away. I just wanted to make sure it wasn't for nothing. I just wanted to have him see me do good."
Before to his breakout at Iowa State, McDonald thought his path would ultimately lead him to the Army. He was an outstanding basketball player and was named the 2018 Classic 8 Player of the Year aver averaging 18.3 points and 12.8 rebounds at Waukesha North HS in Wisconsin . He also was the Division I state track and field discus champion (179-9) and finished third in the high jump (6-4). McDonald used his athleticism to win his first practice rep off the edge in high school and then it wasn't long before Cyclones HC Matt Campbell was offering him a scholarship.
"Everything I did with jiu-jitsu, basketball and wrestling, I take everything to the field," he said. "I'm not just out there trying to tackle people. I'm trying to get the ball out; I'm trying to score a touchdown. I'm using all of that in one category. I feel like I have a big advantage on that towards other people, but I just try to be the versatile player I can be for my team."
Since McDonald was drafted by the Jets, his athletic exploits have been a hit on social media. They range from flashy reverse dunks to backflips off walls to jumping over cars.
"I would never do anything that I think my body's not capable of doing," he said. "I definitely feel like my body's capable of jumping over a car, so I was like, 'Let me just try.' I ended up jumping over that one and the next one, I was at the TCU (Big 12) championship game. I was on the way to my car; I was already jumping over the metal things they have up between the driveways. I was jumping over those and then I already had an SUV, it was like a Mazda, I was like, 'You know what, I'm going to have to try it.' I started running up to the car and was like, 'You know, I definitely feel like I can do this.' Thirty seconds later, I'm already jumping over a car."
While McDonald isn't opposed to jumping over NFL tackles, he has temporarily closed the chapter on car leaps.
"I'm officially retired from jumping over cars," he said.
An emotional McDonald, who intends on increasing his weight from 240 to 250 over the next couple of weeks, spoke of his late brother on his arrival to the NFL at 1 Jets Drive.
"He's always in my wallet," McDonald said. "I have a picture of him in my wallet. I'm glad he was able to see me get this opportunity. I know he wasn't here physically, but spiritually I know he was here with me, and I just hope he's still watching."