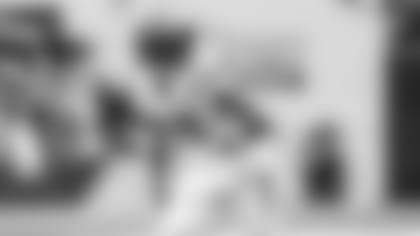 NFL Network's Judy Battista caught up with Jets HC Robert Saleh at the NFL's Annual League Meeting and got an inside perspective of the vibe at One Jets Drive.
"Look, they're really excited," Batista said. "Obviously, there's some things on the horizon that they want to get wrapped up with Aaron Rodgers, but they're excited about the guys they have, and they're excited about the young players that they're bringing back. I mean, obviously when you have both rookies of the year returning, that's a really good base to be to be building from. And I think the feeling is if you add a veteran quarterback to what you've got with the young players, that should really accelerate the development of those players and accelerate the development of the team."
On a March 15th during an appearance on The Pat MacAfee Show, the four-time NFL MVP declared his intentions to play with the Jets in 2023. If a Rodgers trade is consummated, Battista believes the Jets will enter another phase.
"I think the Jets over the last few years have had a very deliberate rebuild, accumulating a lot of draft capital and using it on young players," she said. "But that's been a gradual rebuild, this is putting lighter fluid on it and setting it ablaze. You're taking a huge step when you bring in a quarterback like this. I think it changes how they approach everything. I mean, this should be a playoff team."
As far as how the Jets have handled free agency so far, Battista believes the team has added solid offensive veteran pieces in WRs Mecole Hardman Jr. and Allen Lazard and OL Wes Schweitzer and Trystan Colon.
"We've seen it in free agency to put everything you possibly can around Aaron Rodgers to make him feel comfortable and give this the greatest chance of success," Batista said. "This is not a long rebuild. You may have him a year or two years, maybe three, but this is a short-term thing. You're going for it now, and we've seen this work. We saw the Bucs do it with Tom Brady, and we saw the Rams do it with Matthew Stafford. You go all in, then you get a lot of pieces, and you draft accordingly to fill in and you take off. I think that's the hope for what happens here."
Not only has Rodgers expressed his interest in joining the Jets, but the team has been connected with WR Odell Beckham Jr. among others.
"I think it says quite a bit about what you have on the roster now," Batista said of Rodgers' interest. "I think if Aaron Rodgers had looked at the landscape and didn't see much hope of anything at the Jets, he would not be thinking about it. You know, he would have pursued other possibilities and looked around for other teams.
"The Jets also have pieces in place that you can look at the team and say, if you just add a top-level quarterback here, this is a team that can take a very big jump. They're not taking a jump from the bottom level of the league, you're already at a certain level. Then you add the most critical piece, and this is a team that can get into the playoffs and maybe make a run."