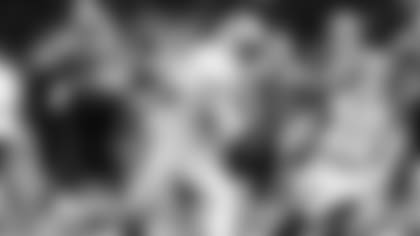 While some may view the preseason as a burden or a tease, wide receiver Terrelle Pryor is eager to play.
"I have to hit a preseason game to get out there," said Pryor, who hasn't played in a game since last November. "I want to show the coaches and the coaches want to see how I fit in with the team. Practice shows a lot, too, but I want to get out there in front of the fans. I want to get out there and make a play so I can hear some people roar. That's something that's special to me and something I want to do. I know I can make those plays and I will."
The 6'4", 228-pounder tore three ligaments in his foot last season and eventually landed on injured reserve. After one year with the Redskins, Pryor signed with the Jets in March and broke his ankle in the spring. Following two surgeries in an eight-month span, the sixth-year veteran is excited to be doing what he loves.
"I feel good. Getting there," he said. "Dealing with a little hip deal right now, but that's just from running. I haven't ran in so long, probably since last camp. Since I've been here I haven't been able to really run, so I'm getting back in shape. That's why I keep running in all this long stuff, I'm trying to lose weight. Just working on my body and continue to work on my conditioning, which is the biggest thing. I'm happy where I'm at right now and I just have to continue to get better."
Pryor, who didn't play in the preseason opener Friday, said he's not going to play Thursday against his former team. He said he's taking about 10 team reps a day and he's made a few beautiful catches in camp so far. Last week he reeled in a Sam Darnold fade with one hand and in Monday's practice he had a pair of highlight-reel moments in the second joint practice with the Redskins.
In individuals, Pryor shook Washington's Deshazor Everett and reeled in a Josh McCown deep ball with his fingertips before hitting the turf in the end zone. In 7-on-7, it seemed quarterback Teddy Bridgewater overthrew Pryor, but the Ohio State product stuck out his paw and snatched the ball out of the air with one hand.
"Day two was great," Pryor said. "I thought it was very professional on both sides. There was no arguing and that's not why we came here. I'm glad we all paid attention to what Coach Bowles said and we respect Coach Bowles, obviously. He's our leader. We came out here to get better and glad nothing happened today, so we can just work on our craft."