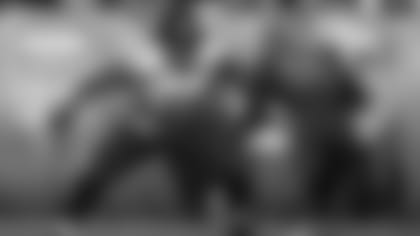 A former college basketball player, new Jets T George Fant has often been the sixth man throughout his football career but now has a shot to be a regular in the starting five.
In his four seasons with the Seahawks, Fant was frequently the next man up behind starting tackles Duane Brown and Germain Ifedi. But with a new opportunity, the fifth-year pro is confident his best football is ahead of him.
"I've gotten better everywhere," said Fant, who signed with the Green & White in March. "I think if you go back and watch some of my film the last two seasons, you'll see a whole lot of growth. I don't think you'll turn the film on and really see me digressing since my rookie year. I've only gotten better and I feel like I'm getting close to the peak of things. I think there's so much more for me to get better, but I'm in that part right now where I think I can be a really elite tackle. I just have to put everything together and pretty much go out there and prove it now."
The 6'5", 320-pounder decided to move cross country to join the Jets because he sees them as a team "on the up and up" and he has a chance to be a starter from Day 1.
"I'm very excited," Fant said. "When I was in Seattle, I was behind one of the best tackles in the league in Duane Brown and I was behind another really good player in Germain Ifedi, a first-round draft pick. It was a tough situation for me, but I'll say this — I learned a lot from the situation. I got to play while I was kind of on the bench as your sixth lineman just for a little bit. I learned a lot and I'm ready to show what I can do now."
Fant started in 24 of the 46 games he appeared in 2016 and 18-19 (he missed 2017 with a knee injury). His career trajectory since playing on the hardwood at Western Kentucky illustrates his work ethic, but on the field, he said, "In pass protection, I'm a pretty good finesse player. In the run game, I try to be as physical and nasty as possible."
Like many players throughout the league, Fant is trying to learn both a new system and new teammates. General manager Joe Douglas has added seven new faces up front since the end of the 2019 regular season and Fant is communicating with the O-linemen every opportunity he has.
"We got little things that we've been doing to get to know each other," he said. "Of course, the group text, Zoom meetings and stuff like that. We're doing a couple things here and there to get ourselves adjusted to each other. I've been trying to get in touch with the guys 1-on-1 and kind of show my personality to those guys, show them what they can expect from me and things like that. I'm just trying to do those small things.
"Some guys can get to know each other better by playing Xbox or PlayStation," Fant added. "Some guys just text or give them a call. I think once you get to know guys in a period of time whether it's virtual meetings and things like that, you'll figure that out. Once you get into a room together and on the field together, it'll grow from there."