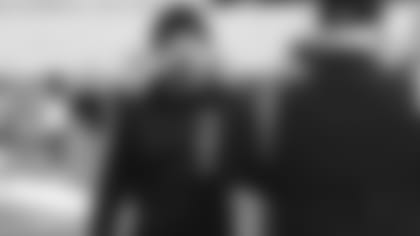 Jeff Ulbrich, the defensive coordinator of the Jets, might undersell his playing career but nobody would underestimate his passion for the game.
"I was an average player," Ulbrich told senior team reporter Eric Allen during their informative chat on the latest edition of "The Official Jets Podcast" from the Reese's Senior Bowl in Mobile, AL. The Green & White staff, led by HC Robert Saleh and his hand-picked head coach of the National team, Ron Middleton (the Jets' tight ends coach), has a unique opportunity this week to interact with players on and off the field leading up to Saturday's game.
"For a one-year starter out of Hawaii, I had a dream of playing in the NFL," Ulbrich said. "I never thought it would materialize. In 2000, 30 of the 32 first-round picks played in this game. For me, without this game I don't get drafted. It gave me an opportunity and I realized I could play, and play with top guys."
Ulbrich may have been an "average" NFL player for the 49ers (2000-09), but his path from the playing field to landing a coaching gig his first year out of uniform tracks back to a chance encounter during Senior Bowl week more than 10 years ago. But first there was that decade of play for San Francisco, after the linebacker was drafted in the third round, No. 86 overall, out of Hawaii.
"I was the opposite of most guys who come in as reserves and earn their stripes on special teams," Ulbrich said. "I came in when the 49ers were in transition, moving on from those greats -- [Steve] Young, [Jerry] Rice, [Terrell] Owens -- a lot of great players who were part of Super Bowl wins. My second year we were really starting over. I had a great opportunity to start early in my career, but I didn't get that 8- 9- 10-year career. I had enough self awareness that when they draft a guy like Patrick Willis, you know he's better than you. The writing was on the wall. I embraced playing on special teams and it let me get three more years in the NFL."
He sustained a concussion midway through the 2009 season and announced his retirement in early December, saying he hoped a coaching career was in his future. A trip to the Senior Bowl led to a bit of serendipity that eventually led him to One Jets Drive as HC Robert Saleh's DC.
"I made a lot of those calls. I wanted to be a linebackers coach, but found out right away that there's only 32 of those jobs and they're hard to come by," Ulbrich said. "I got the same advice ... go to the Senior Bowl and put a face to your name. People remembered me a little bit. I shopped myself around and got to know as many people as I could.
"I was at one of the expos and I just happened to be in the same spot as [Seattle HC] Pete Carroll and [GM] John Schneider, and all of a sudden they're next to me," Ulbrich said. "I gave them my contact number. I come home from Mobile and out of nowhere Pete Carroll calls me while I'm having dinner with my young family. We get to talking and before I know it, it's a two-hour conversation and they're done with dinner and looking at me funny. I get off the phone and don't know what to make of it. We were just talking about football, philosophy, family life, a little bit of everything. Pete is that way. He tells me to look out for an email. I get the email a couple of days later, thinking maybe it's just a follow up. I look at it and see there's flight information, a rental car and a hotel reservation. I look closer and it's for a 90-day stay.
"I guess I got the job. That was it."
"It" was a job as the Seahawks' special teams assistant, which led to a position the next year at UCLA and then a job with the Falcons before his move north.
Like Saleh, Ulbrich said he has nothing but admiration for Carroll and his approach to coaching.
"I was from the outside looking in, I was so intrigued by his approach and have such admiration for it," Ulbrich said. "He had tremendous success at USC, it was his first year in Seattle. He was everything I thought he was and more. It wasn't just random juice, but focused energy, focused passion. He's so deliberate in what he does and he really helped me. Here's this guy, no connection to me, and he gives me opportunities to speak to the team, really cool opportunities, and gives me feedback in a follow up. For a young coach it was the perfect situation."
As a guy who played in the Senior Bowl and used the game to launch his playing and his coaching career, Ulbrich has seen today's young players embrace the opportunity while also realizing that they are better prepared -- especially when dealing with matters off the field.
"The football stuff is obvious, now they're getting taught how to carry themselves when they eat, when they get their laundry," he said. "Everything is being assessed, analyzed. Their agents do the job prepping these guys. For us, the challenge is trying to filter through what's real and what's not real. As coaches [at the Senior Bowl] it gives us an advantage in developing a relationship and trust -- as much as can get in a week's time. It gives us a window into the world of who they are. For us it's huge."
It is especially key for the Jets as eyes turn toward April's NFL draft, when the Green & White own a pair of picks each in the first and second rounds, nine picks overall.
"It is imperative we hit on all of them, any information we can gather is huge," Ulbrich said. "We come here thinking about the opportunity to assess. But it's just as important to eliminate people. Maybe their personality and character are not right for us. You find guys for sure and you really find guys you want to target, but it's just as important to eliminate certain people, too."
A couple of quick hits from Ulbrich:
• On calling defensive plays in the 2021 season: "It was awesome, even if sometimes the results were not. I felt like I grew, and I'm really proud of the last four-game stretch. I felt like we're starting to see fellas turn the corner, learning the finer details of the system."
• On Carl Lawson: "Most fronts in the NFL are read/react to schemes. There is a level of hesitation, but this front is not built that way, it's tailor made for Lawson. That's how he's built. I don't want to throw too much at him, but he looked unblockable [before sustaining a season-ending Achilles tendon injury in the preseason]."
• On C.J. Mosley: "One of the most special football players I've ever been around. So humble, such a good teammate and human being. Last year, my wife broke her ankle. C.J. saw us going out to practice. She was supposed to be off her feet. The next day I get to the office and there's a wheelchair waiting. He brought it from home, unsolicited. That's a small window into his world."
• On the Jets' young cornerbacks ... Bryce Hall, Bradin Echols and Michael Carter II: "I'm really proud of the way the guys progressed and really felt by the end of the season that we can play with anybody out there with this group. They ended up becoming NFL corners by the end of the season. It's cool."
See the Jets coaching staff on the practice field with the National Team leading up to the Senior Bowl in Mobile.