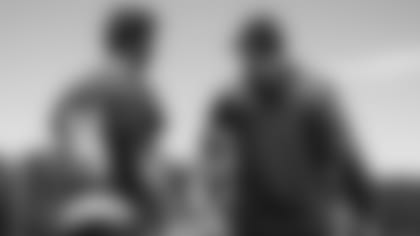 When asked about the players who have stood out to him throughout the Jets' OTAs, head coach Adam Gase had trouble finding an answer.
"It's hard to narrow it down," he said.
Gase has been happy with his group through the spring and his extended answer reflected that.
"I know I've been impressed with a lot of guys on defense, especially that defensive line, they make it tough…C.J. (Mosley), Jamal (Adams). It's been good to get Marcus (Maye) back in some 7-on-7 stuff," Gase continued.
Flipping to the offensive side of the ball, Gase continued to rave about quarterback Sam Darnold before covering a few more skill position talents and finally moving up to the line.
"Watching him progress through this thing, it's really exciting. I think Quincy (Enunwa) and Robby (Anderson) are really starting to come around with what we're doing," he said. "We're trying to keep doing variety and keep pressing them, seeing how much we can do there. Chris (Herndon) has done a good job of coming along in the offense as well. I think the line has done a good job of gelling together and really playing well off each other."
One player not expected on the practice field for the Jets until mandatory minicamp is RB Le'Veon Bell. Gase expected Bell, who signed with the Green & White in March, would continue to stick with the same offseason program he has had for years.
"I figured he was going to do the same routine that he's been doing the last two or three years. I knew that he was down in that Boca/Ft. Lauderdale/Miami area working with the same guy for a while. I know he feels comfortable with that, which I'm good with. I know once we hit training camp, he'll be ready to go," he said.
With Gase and defensive coordinator Gregg Williams matching wits daily, the pace of the daily workouts continues to be at fever pitch.
"I've really been impressed with play speed, energy, attitude, the want-to. Thursday was really fun to be a part of, just how fast those guys were moving. Going into a four-day weekend, sometimes that practice can be a little sketchy and get a little lackadaisical. You just didn't see that. Guys were really wired in, looking to get better and yesterday was a good pick up coming off a four-day weekend. I thought the guys did a good job."
Jetcetera
On the injury front, rookie DT Quinnen Williams was back on the practice field Wednesday. The No. 3 overall selection in April's draft has a minor calf injury and the Jets will slowly work him back. "When you get a big guy with any kind of soft-tissue thing, you just want to be smart with it," Gase said…Veteran safety Marcus Maye, limited to six games last season, has been participating in individual drills and 7-on-7 work. Don't expect any 11-on-11 activity for a bit though. "We do not want to have a setback with him because you put those two guys back there together — that's a really good combination," Gase said of Maye and Jamal Adams. "So, we're being careful with what we do. He doesn't have anything to do to protect him. The last thing we need is for him to get competitive, go up for a ball, going on the ground and having any kind of setback." Right tackle Brandon Shell (knee) hasn't had any restrictions and continues to line up with the first-team offense…Cornerback Trumaine Johnson has missed the two OTAs the media has been permitted to watch, but Gase expects him back for mandatory camp "It's voluntary. He's been in contact with me. I know where he is, I know what he's doing. He's done a great job as far as communicating with me. He's been here majority of the time. We should be getting him back next week."...Linebacker C.J. Mosley was not present during Wednesday's OTA when the media was present.