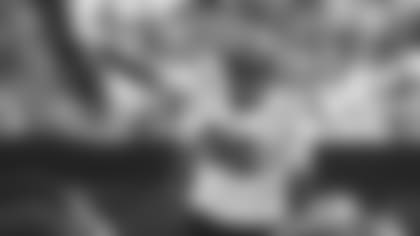 The Jets' 2022 season is over. Here is a look at the top five Pro Football Focus season grades among players who played a minimum of 400 snaps. A full list of the PFF grades is here.
DL Quinnen Williams – 90.1 
In his fourth professional season, Williams obliterated his career-best grade for a full season, previously 81.4 in 2020, with a final evaluation of 90.1. Williams, the Jets highest-rated player this season, was the seventh-highest graded defender and the third defensive lineman (min. 50%). In 16 starts, Williams scored above 80 eight times, including a season-best 92.1 in Week 1 against Baltimore.
Williams registered a career-high 12 sacks, 28 QB hits and 31 pressures earning an 84.1 pass-rush grade. He also had a career-best 12 tackles for loss and tied his high for tackles with 55 to receive a 77.7 grade in run defense. Additionally, Williams was named PFFs 2022 second team All-Pro.
CB Sauce Gardner – 88.5
Gardner, a Pro Bowl selection in his rookie season, was the top-rated defensive back in the league and the 14th-highest graded defender ( 88.5). Gardner received a season-high evaluation of 90.2 against the Broncos and had 4 games with an 80-plus rating. The No. 4 selection in last April's NFL Draft, Gardner led the league with 20 pass defenses and received the top coverage grade at 90.2 while being named to PFFs 2022 first team All-Pro.
WR Garrett Wilson – 82.7
The Jets rookie wideout received a grade of 82.7, the second-highest among rookie receivers and No. 14 among all skills players who played a minimum of 50% of their team's snaps. Wilson broke franchise rookie records for yards (1,103) and receptions (83) en route to the 11th-best receiving grade of 85.9. Additionally, Wilson forced 22 missed tackles according to PFF, the third-most in the NFL and played all 17 games.
Wilson, the No. 10 selection in last April's NFL Draft, surged in the second half of the season, registering his best grade (91) against Miami in Week 18 and four 79-plus performances following the Week 10 bye. For the season, Wilson had 11 games of 70-plus and none lower than 54.
DL John Franklin-Myers – 82.6
With a grade of 82.6, Franklin-Myers was the 29th-ranked defender and 18th-highest defensive lineman (min. 50%). Franklin-Myers has steadily improved under PFF's grading system, going from a 65.1 evaluation in his rookie season with the Rams in 2018 to a career-best score this season and his second straight over 80. Besides Week 16, Franklin-Myers did not grade below 62 in a game this season and had 5 of 75-plus and two 80-plus including a season-high 87.5 against the Dolphins in Week 5.
Nickel Michael Carter II – 74.3
In his second professional season, Carter II earned a 74.3 grade and was the 27th highest-rated defensive back (min. 50%). Among corners, Carter II was rated 14th-best and the eighth-highest in run defense. Carter II took a leap from his rookie season improving his evaluation by 20.6 points. The UNC product graded out at a season-high 90.1 in two games this season and totaled seven matchups of 72-plus.