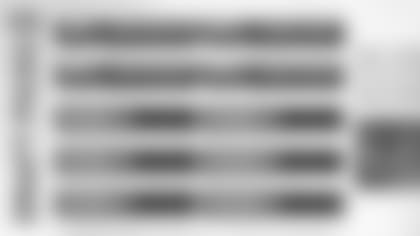 Mekhi Becton Continues O-Line Makeover
After Jets GM Joe Douglas went to work on the offensive line in free agency, he made a mammoth move with his first draft pick as general manager of the New York Jets. The Green & White took 6-7, 364-pound Mekhi Becton with the No. 11 overall selection as he became the first tackle taken by the club in Round 1 since they took D'Brickashaw Ferguson out of the University of Virginia with the fourth pick of the 2006 draft.
"The thing that jumps out when you first watch Mekhi on tape, is it's like a giant among boys out there on the field," Douglas said. "His sheer size just jumps out and then you see him move and you see how easy he can slide, mirror defenders. His heavy hands, his ability to lift people off of their feet and move people with ease, there's a lot of unusual traits to this young man's game."
Douglas emphasized the interior offensive line in free agency, inking Connor McGovern (Denver), Greg Van Roten (Carolina) and Josh Andrews (Indianapolis) to new deals while he also re-signed Alex Lewis. George Fant (Seattle) was the sole newcomer at tackle but that all changed in a big way Thursday night.
"He brings an edge to us, he brings nasty to our offensive line room," said head coach Adam Gase of Becton, who played both RT and LT with the Cardinals. "Anytime you can add a guy like that, you're fired up as a coaching staff."
Spring of Sam (Darnold)
Douglas has not only fortified the O-line in front of quarterback Sam Darnold, but he has begun to reshape the playmakers around him. After Robby Anderson agreed to a contract with Carolina, Douglas quickly countered with the signing of former first-round pick Breshad Perriman. The 6'2", 215-pound Perriman, who had three consecutive 100-yard receiving outings to close last season in Tampa, is a former first-round pick blessed with 4.2 speed. After trading back Friday in the second round, Douglas added an additional third-round pick from Seattle and drafted Denzel Mims with the 59th overall selection. The 6'3", 207-pound Mims is also a sub-4.4 blazer (4.38) and the long-strider is coming off a 66-catch, 1,020-receivng yard, 12 TD season at Baylor.
"With what you're getting with Denzel is a long, smooth receiver," Douglas said. "Great catch radius, soft hands, the ability to turn short catches into long touchdown runs. He is a deceptive strider and he has excellent speed, but he's such a smooth and controlled mover that you don't realize how fast he's going. And when we were down Mobile, he really had a strong week and really separated himself as one of the top receivers down there."
"I feel my blocking stands out," Mims told reporters. "I feel like my contested catches stand out. I feel like I make plays all around the field."
Turn to Defense
After addressing offense with his first two picks, Douglas turned to the defensive side with his next pair. In need of depth at safety behind Jamal Adams and Marcus Maye, Douglas pegged S Ashtyn Davis with his 68th overall selection in Round 3.
"We loved his versatility," Douglas said of Davis, a California product who also averaged 22.9 yards on kickoff returns during his career. "He can play as a high safety, he can play as a low safety and he can play over receivers, so I think that versatility is really going to aide our defense."
And he checked off on another need with the selection of Florida Edge Jabari Zuniga 11 picks later. The 6-3, 264-pound Zuniga, a basketball player growing up who was limited with a high ankle sprain last season, had 18.5 sacks in 42 games for the Gators. He believes the Jets got a great value.
"I definitely consider myself the steal of the draft," Zuniga said.
Assistant GM Rex Hogan added: "He is a guy who weighs 265 pounds and ran 4.65 and has the get-off, the explosiveness and twitch. Although he missed six games this season, his production rate and what he did show when he was on the field is what we saw in him and what we expect from him."
Super Saturday
Following a late Friday night trade with the Patriots, the Jets will start the third day of the draft with a six-pack of selections including three in Round 4 (Nos. 120, 125 and 129), a single in Round 5 (No. 158) plus a pair in Round 6 (No. 191 and No. 211).
"The great thing about day three," Douglas said earlier this week, "is that everyone around league circles and the fans, they know about the first- and second-round players. Only the scouts know about the day three guys. So you're talking about the late-round, free-agent guys and there's a lot of good players that make your team better in that group.
"So we spend a lot of time going over those guys and making sure we have the right sequence, that we've targeted the right guys. And we have a really good postdraft free agency protocol that we're going to follow. Undrafted free agency is just a great opportunity to really take your draft from good to great."