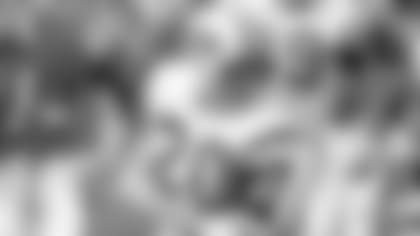 While a 98-yard game by running back is good, a 98-yard punt is great!
In the 100-year history of the NFL, it has happened once.
Occurring on September 21, 1969, Jets rookie Steve O'Neal put his name in the record book during a game in Denver against the Broncos.
"I don't think we ran at all that particular series. Joe (Namath) dropped back three times to pass and got sacked three times," said O'Neal, who was playing in only his second game. "I thought I was going out maybe to punt after a safety. And the closer I got to it, I realized they're putting the ball inside the 1-yard line. So, I thought, 'This is going to be tight.'
"Matt Snell was my personal protector at that point in time and in the huddle, I told Matt, 'Whatever you do, don't back up.' Well, he backed up. But I think it probably helped me get into that punt because when you shorten your last stride, you can gather and really pop it. And I'm thinking that's what happened."
O'Neal's punt, from about five yards deep in his own end zone, landed at the Broncos 33 and bounded down to the goal line, where Denver's Bill Thompson grabbed the ball and ran laterally before being tackled a step from the goal line by Wayne Stewart.
"They did announce before I got over to the sideline that it was a new record. I didn't think that much about it, I just wanted to stay focused on what I was doing," O'Neal said. "The biggest mistake I made was not going and getting the football, but they didn't do that sort of stuff back then.
"Nobody seemed to make a big deal out of it. Weeb Ewbank, the coach at that time, three days later, congratulated me on the punt."
That wasn't long after O'Neal was being congratulated for making the Jets. Something that may not have happened if it wasn't for Texas A&M football coach Gene Stallings' need for gasoline.
"I went to A&M on a track scholarship (for high hurdles and long jump) and they found out I could punt a football," O'Neal said. "I didn't get to punt that much the whole time I was in high school unless the punter was tired. He got hurt the last four games my senior year, and I stepped in and did really well.
"Gene Stallings supposedly was friends with a guy who owned a service station in (my hometown) Hearne (Texas), and he would stop there and fill his car up when he was passing through. He was voicing concern for a punter, and the owner told him, 'Well, you've got the best punter in the state at A&M right now running track.' He got my name and talked to Charlie Thomas, who was the track coach, and told Charlie to tell me come talk to him. So, it went on from there."
The Jets would choose O'Neal in the 13th round of the 1969 NFL Draft, just 17 days after winning Super Bowl III.
"I was surprised. I really didn't know that much about the Jets other than they were in the Super Bowl," O'Neal said. "(New York's director of player personnel) George Sauer Sr., called and asked if I'd be willing to play for the Jets if they drafted me. Curley Johnson was their punter, and he was a good punter, but I didn't know he was coming off knee surgery. So, that might have prompted them to look a little harder. Right place, right time."
With the Jets for four seasons from 1969-72, and one season, 1973, with New Orleans; what makes O'Neal most proud of his time in the league?
"I think just being able to play in the NFL," O'Neal said. "I had probably four out of five good years – two exceptional years, two good years, and one year I wish wasn't even on the record. That season, we played 14 games, and in eight of them, it was raining and windy. I wasn't doing well that year. I was in a rut.
"There wasn't a punting coach. I actually watched ballgames on television, and (then-St. Louis Cardinals punter) Chuck Latourette, I played against Chuck in college, he was from Rice. I was watching him punt and it just clicked. I thought, 'That's what I'm doing wrong.' I was dropping the ball too close to me and I wasn't extending to make contact. I made a change and the last four or five games, I did well."
O'Neal did well in his second career, too. Following football, he enrolled at the University of Tennessee in Memphis and became a dentist. Practicing for 40 years in Bryan, Texas, he retired in 2015.
He and his wife, Judy, make their home in College Station. They have two daughters: Lindsay Grantham and Lesley O'Neal; and four grandchildren.