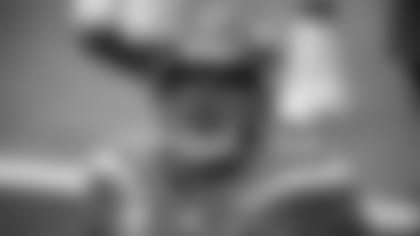 An undrafted defensive tackle out of Troy who was waived or cut from the practice squad five times during his first two seasons with Pittsburgh, if it wasn't for resiliency, Steve McLendon wouldn't have spent seven years with the Steelers and help them reach Super Bowl XLV.
And if it wasn't for then-head coach Todd Bowles, McLendon wouldn't have joined the Jets in 2016.
"Me and him had a conversation, and he asked me to come there. He wanted to do some special things," McLendon said. "Not only just seeing what they did the year before when they went 10-6, they had other phenomenal coaches on the defensive staff, they had phenomenal players. But ultimately, I wanted to play for Coach Bowles.
"I knew I would come in being a leader of a young room. I knew that I would come in and be a starter, as well. But the biggest thing is I knew was that he was bringing a special team together. And the word together always rings a loud volume with me because if you look at the word, it means: Together Everyone Achieves More. So when he said he's bringing a special team together, I was on my way."
McLendon was on his way from the get-go. In his first game as a Jet, the 2016 season opener against Cincinnati, he began relying on his history and said hello to Jet fans by tallying two sacks and five solo tackles.
"I was so familiar with Cincinnati, I think that whole AFC North division," McLendon said. "I pretty much played really well against the AFC North, especially coming out of the AFC North.
"So that year when we were playing the AFC North, against the Steelers, against the Browns, against Cincinnati and the Ravens, I performed really well against all those teams because I'd been playing seven years prior against those teams twice a year."
With Pittsburgh making the playoffs four times during the seven years McLendon was with the team, what he wasn't familiar with was losing. However, after joining the Jets, unfortunately for him and the Green & White, that wasn't the case. Yes, they struggled. But given his experience, McLendon was looked to be a leader and help turn things around.
"It was like a learning curve. I don't call it losing. We didn't have success, like a true winning record, but the growth that we had… we had like eight games that we lost in the last two minutes. We were in every game and just didn't know how to finish," McLendon said.
"We just weren't finishing our games to win, but we played hard, we fought hard, we worked hard, we worked together. But I think the biggest thing was that it was just the (AFC East) division that we were in. The other teams, at that time, were just better."
Posting a career-high 3.5 sacks in his first year with the Jets, after his second, third, and fourth seasons, he was selected by his teammates to receive the Dennis Byrd Most Inspirational Player Award.
In his fifth season with the team, one day after New York's 2020 Week 6 game in Miami, McLendon was traded to Tampa Bay. There he'd be reunited with Bowles, who after being let go by the Jets the previous year, was the Buccaneers' defensive coordinator.
"As soon as the talks started, the GM (Joe Douglas) brought me in and told me. So that was like the initial shock," McLendon said. "But just always being close to Coach Bowles, he had told me, 'If I ever get the opportunity to come get you, I'm coming to get you.' And that was just the time that he came and got me. I was extremely thankful and blessed to have the opportunity to play with the Jets, but even more grateful and thankful for the opportunity to go play with the Buccaneers."
Despite knowing that his time as a Jet was literally running out, McLendon wanted to – no, make that insisted on – taking the field for the game against the Dolphins.
"It was my choice," said McLendon, who'd have a season-high four tackles in the 24-0 loss. "It had nothing to do with any coaches. Coaches knew the trade was going down. Everybody knew the trade was going down. I was just like, 'Man, I'm going to finish it off strong. I started the work with them. I'm going to finish the work with them. I'm going to give it my all.' And, you know, it was a fun ride.
"I tell everybody this to this day; 'Jets fans are diehard fans. No matter if they win or lose. No matter what, they are always going to be there to support you. They're great, phenomenal fans.' And hopefully, one day they can win a championship just for the fans because there's no other fanbase like Jets fans."
Following the 2021 season when he helped Tampa Bay win Super Bowl LV, McLendon retired. What makes him most proud of his career?
"I'd say the process," McLendon said. "The process made me proud because I knew where I came from. I trusted the process alongside of my journey. I trusted that I could play in this league. I enjoyed every minute of the process."
Making their home in Buford, GA, McLendon and his wife, Shamika, have four sons: SJ, Eli, Kaden, and Jordan; and a daughter, Aaliyah. Halfway through his 13-year NFL career, he began thinking about his life after football. What he would do for a second career.
"It was really all in the vision. I didn't know how to go about the business, so I just contemplated and thought about it. I started buying piece by piece and I built a gym on my farm. I was already auditioning for a job that wasn't even there," McLendon said.
"So I was preparing myself for the future, and the biggest thing for me was just the vision. I lived in the vision. I was driven by the vision. I was focused about a vision. I understood that that vision, that's what gave me life. And I was super thankful that I had the opportunity to be able to bless others with the vision that I had."
McLendon's vision? Team MVP Gym.
MVP, which stands for McLendon Vision Performance opened in February 2019 in Flowery Branch, GA. Since then, it has teamed up with IVSA, Infinite Vision Sports Academy, and is a training facility for athletes, 5-year-olds to professional. McLendon feels that working with kids and giving back to the "younger generation" is what he finds most enjoyable about what he's doing.
"I feel like there's an athlete in everyone and all I've got to do is just bring it out of them," McLendon said. "No matter what sport it is, I just enjoy the process of time and their journey. Being able to give back the knowledge that was given to me.
"I always tell everybody, 'You get to live one life. And the knowledge that you have, you need to give it away before you die because you're just taking knowledge to the grave that doesn't even belong to you.'
"You have a gift and you're supposed to give that gift away. I have been fortunate and blessed with the gift that I have and I've been giving it away every single day."
And when McLendon sees that gift making a difference in someone's life?
"It's absolutely phenomenal," he said. "It's like one of the best things ever for me because I see their process. I see their journey. I see their hard work. I see their dedication, not only in the gym, but I get to see it in their classroom.
"I (recently) received a message from a mother about this kid, who about a year ago, his mindset was one way and today you see this kid making straight A's and loving school. I would never say that I made me this kid because it's not my child, but I do say this. I was able to give my gift away that I had bestowed upon me to somebody that needed that gift. And now that I have given that to him, I will be able to see him flourish throughout life."